Toasting myself and all of you while I'm sitting here in the sofa posting this! Why? It's been a month since I started this blog! Can you believe it? Time goes by much too quickly for me nowadays because it feels like it was only last week. :)
To celebrate this huge milestone, lol, I thought I'd offer up a little something. I have created a template out of a layout I did back in the summer of last year when I first started digi scrap (that's before Jessica Sprague graced my life). It's one of the few I still feel happy about when I look at it now.
Here's what the layout looks like: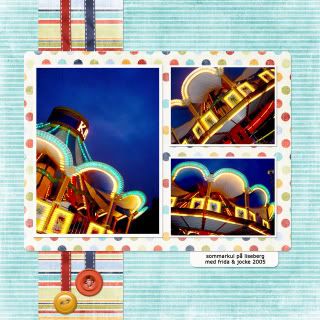 (Credits: All papers and elements: Shabby Princess Photo: Linda Roos)
It's just a simple template but if you want it you can grab it
here
.
Thank you everyone for sharing this experience with me!