I have found that scrapbooking for me is very much related to if I have a photo I love as a jumping off point. I don't do well with set topics, unless I have a photo that fits, but feel more comfortable just going with the flow of my feelings for the photo and whatever else I have on my mind at the moment.
Doing that yesterday I came up with this little LO.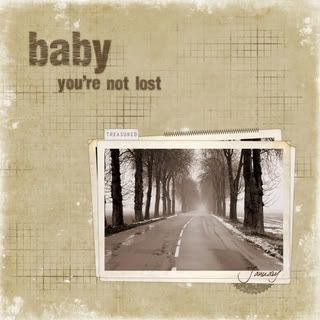 (Credits: Background paper: FairyDreamer-8 by Katie Pertiet.Grid: Unadorned grid by kSharonk.Overlay: Distressed Diva distressed overlay by Trish Jones.Stitching: BrownStitching by Katie Pertiet.Frame: Webframe111807 by Katie Pertiet.Brush: Grunge brush by HawksmontFoto: Linda Roos)
I uploaded it to the DesignerDigitals gallery and got a beautiful comment from Sarebear:
"I lOVE Michael Buble, and I LOVE this layout! This song is very special to me, and on a day in my life, today, when I hear rather difficult health news (I'm not dying or anything though), and then the first layout I see in the gallery as recent new ones is this . . . . it touched and touches me deeply. He's still there for me (God) and through you, I feel He let me know that I'm not lost, and all is not lost.Thank you for this.Thank you."
Wow, isn't that what it's all about?