A coworker of mine went on holiday to Australia last week with her boyfriend and their respective children. Today we read an announcement in the newspaper of their nuptials in her brother's garden today.
To congratulate the happy couple my boss asked me to do something nice with a poem she thought would be fitting so that we could send a congratulary email tomorrow. So this is what I came up with.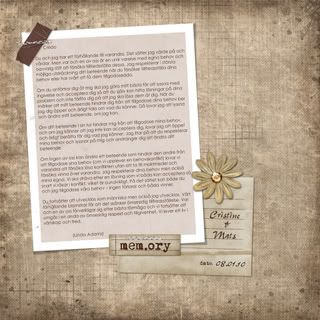 (Credits: Qick page: Ruff Stuff by kSharonk Grid: Unadorned grid by kSharonk Flower: Minimeander_flower by kSharonk Gem: kskd_serenity_gem2 by kSharonk Overlay: Distresseddiva distressed overlay by Trish Jones Brushes: Valentines brushes by Jason Gaylor Fonts: Century Gothic and Pepita)
I had to take the easy route and go with a quickpage since I had quite a few other things planned for this evening. But I think the outcome is nice anyway.
Sharon's
things are beautiful so how could I go wrong?