A friend of mine, one I have never actually met, but have shared experiences and thoughts with for almost seven years now over the Internet, had a 1st birthday party for her little boy. She asked me to make a colourful and fun invitation for the event. Her only specification was that it had to include a little worm.
I chose to stay away from baby blue with this one and went with lime green and added little dots all over. She had it printed locally from a printer and loved the end result.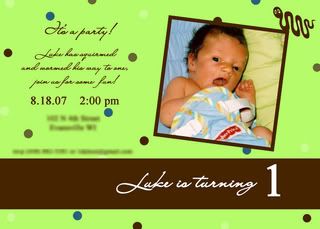 The text says:
It's a party! Luke has squirmed and wormed his way to one, join us for some fun!