Oh yeah. I have one too. I am usually a high spirited and positive person but there is something in my life that is dark and difficult and painful. I made a layout about it.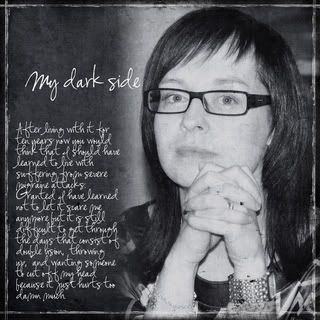 (Credits:Paper: Navy copy by Heather Ann Meltzer
Elements: Distressed diva distressed edge by Trish Jones, ShabbyBorders1_shabbylines by Shabby Princess
Font: Susie's Hand
Photo: Linda Roos)
Journaling: After living with it for ten years now you would think that I should have learned to live with suffering from severe migraine attacks. Granted I have learned not to let it scare me anymore but it is still difficult to get through the days that consist of double vision, throwing up, and wanting someone to cut off my head because it just hurts too damn much.

In other news I am working on
1. A card for a little baby boy's christening that needs to be finished this week.
2. A logo for a friend's new endeavour.
3. An invitation for a 60th birthday party that doesn't have to be finished in ages yet but the birthday boy wanted some suggestions.
4. Trying to find time to do some digi scrap challenges. Good luck to myself with that, lol.