We were invited to a Midsummer's party yesterday and we got the host and hostess a gift certificate to a local restaurant empire together with a few other couples. Just handing over a gift certificate is pretty boring I think so I made a card to hold it.
I am in love with the stripes of this paper. That is not strange at all because stripes have always been a favourite of mine. I think the colour combination is genius though.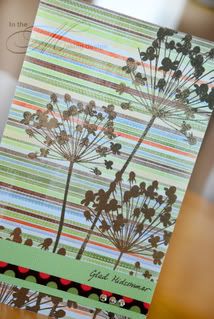 The green paper, though not visible here, is shimmery and highly textured. It's one of my favourite papers at the moment. The ribbon is double sided and I used the other side, which is striped, on the inside of the card. A few stones to add some bling.
I made a pocket on the left side to hold the certificate and a brochure of the place. I cut it at an angle to make it easier to slide them in and out of the card. I used the same paper as on the outside to get some repetition and emphasize the summery fun that was the theme of the party.
As much as I love type and fonts, and believe me I really do, I felt it would suit the occasion and feel of the card and party better to handwrite it. Both the outside and inside has my handwriting.
Tomorrow: A new template! Don't miss it!