This week was pretty uninspired. We had snow at the beginning of the week and then the weather has been pretty blah. I've worked a lot as usual. So this gets to be a down week as far as Project 52 goes.
I'm usually not big on effects when it comes to photography. I like for my photos to be photographs and not Photoshop products. Don't get me wrong, I love PS and I love how powerful it is as an editing tool, but I don't want the post proccess techniques to overpower the photo. Know what I mean?
But because I felt so uninspired with my photos this week I played around a little. And these two are the products. I don't love them, not even sure I like them. But there it is. Can't decide which one will get to be the photo for this week ... what do you think?
#7, 2009
On our driveway we have a few pots with some dead heather. I practically just opened the door and took some shots. This first one is in sepia with the colour of the heather brought back.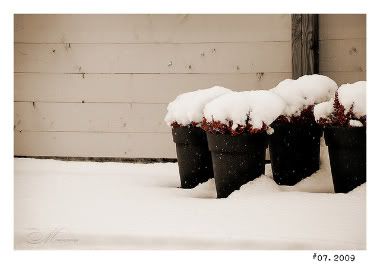 I tried out Pioneer Woman's action called Seventies with this one.