I made a layout with last week's Project 52 photo.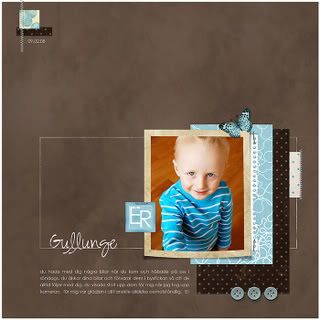 (Credits: Papers: Brown Solid from Sweet & Fresh kit and Aqua Solid by In the Making Design, patternedONE copy and polkadot from Flutter Fresh kit by Vinnie Pearce, MCO_PP6 from Vintage Dreams Retro kit by Michelle Coleman, JS-HAFH-BlueBubbles from Home and Away kit by Jessica Sprague
Elements: button from Flutter Fresh kit by Vinnie Pearce, NoteStrip from ScrapPink kit by Katie Pertiet, DirtyFrames-2a by Katie Pertiet, White Stitching by Katie Pertiet, butterfly from gardendelights1 freebie by KSharonK
Fonts: Century Gothic and CK Ali's Writing
Photo: Linda Roos)
If you come back tomorrow, I will have a template made out of this layout for ya! Have a good night!