For our dinner tonight I thought I'd play it up a little and set a romantic table for the two of us. Because I decided on this about an hour before I didn't quite get the chance to get anything new, like flowers or such. But did you think that would stop me? Nah, I'm the queen of hoarding so you know I had at least a few usable things at home.
With a white linen table cloth and a black and silver runner I had the basis. We have red as an accent colour in another room so I snatched the candles from there.
I butchered a few fake roses and put them in silvery dessert cups that matched the candle holders.
The paper strips around the stems of the glasses say "heart you" and are fastened with double sided tape. Had I had more time I would have done something more elaborate on the computer though.
I had red organza ribbon with hearts so I put them around the chairs and punched some hearts out of red paper that I scattered on the table.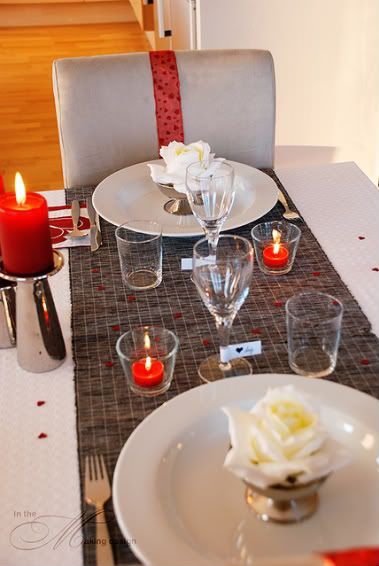 The food was fabulous; crostini with spinach and pata negra for starter, Jamie Oliver's pasta with prawns and ruccola in tomato sauce for main, and chocolate/banana milkshake for dessert, but I cannot take credit for that as I suck at cooking. Seriously. Thank God I married someone who is good at it. :D
Have a wonderful evening everyone! I will be back tomorrow with the photos of my sister's party invite.