There really hasn't been a lot of freebies around here lately, has there? Well, time to redeem myself here a little bit.
I was watching this programme on telly about fabulously designed houses in the UK and saw something really nice. On one of the living room windows of a particular house a saying was etched. It was in Latin but I really loved it and knew immediately that I had found the saying I have been looking for since the dawn of time, well not really but for a while at least, for the office.
It said
happiness lives here
.
Isn't it fabulous?
So I had to sit down and give it a try and see if I could find a design that would work. And I did. And then I decided to share it here as a word art freebie. So here it is.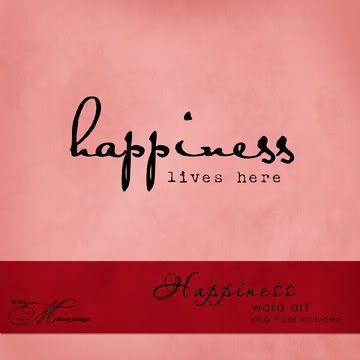 You can click
here
to get to 4shared and download it if you like it.
The download includes both a png and an abr brush. Please do read and follow the TOU, give me a shout when you download, and I would love to see what you do with it too, so don't hesitate to link me up.
I, at least, am overly excited at the prospect of having it on my wall. There is the small detail of informing the husband of my plans, of course. But really, what choice does he have but to love it?
While I was at it I also created som other art for the office. I promise I will come back with pictures when I have them.
Now I'm off to see what photo I want to use for my Project 52 shot this week. Until later!