We had my family over for a garden party last night. Due to iffy weather we thought it safest to do the actual eating inside even if we did cook the food on the grill outside. It was a relaxed party so I didn't want to overdo the table with a bunch of stuff but knowing me I had to do
something
!
I used a sand coloured cotton table cloth and paired it with (clean and non stained) dish towels instead of napkins. I put seabed pebbles in tall vases and crisp, white pillar candles on top. The small vases with the (fake) flowers usually reside in the small window above our kitchen sink but were perfect to go between the candle vases.
Being a (half)minimalist I don't have a lot of rustic looking china or tableware so our regular white plates from IKEA, which I love, had to make do. I think it still works well though because it looks clean and crisp but not overly themed.
I found the cutest little stones when I went shopping the other day and felt it would be the perfect little favour for our guests. The stones say "I heart you" in Swedish and English. One stone was placed on the towel at each setting.
Here it is again right before we sat down to eat. My family is used to me running around with the camera before we sit down at every dinner party. They mumble to eachother about my blog and let me go crazy, lol.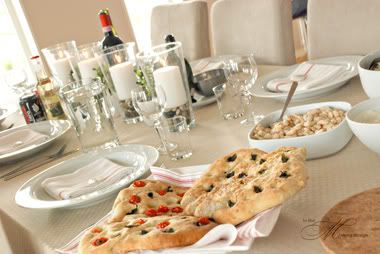 I baked that foccacia in the last picture, by the way, and Martha Stweart was on the telly while I was doing it. I was feeling like quite the little home maker, lol. Which brings me to this week's photo for Project 52. Not only did I bake bread, I also baked a cake! Yeah, I know! Hard to believe. My mother even commented on it. It was absolutely delicious and I am so proud. I made the little flags for each serving about an hour before the family arrived. Just a little something to spruce it up a bit.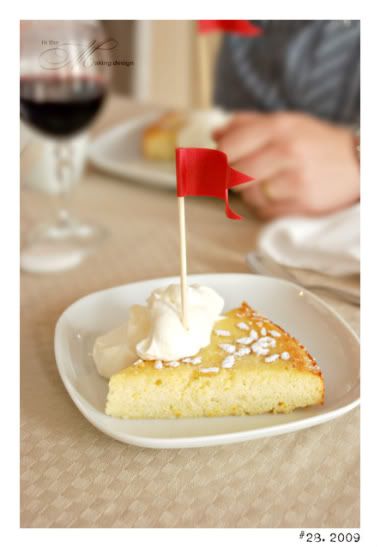 The cake is "Torta della nonna" if anyone wants to know. I encourage everyone to try it. You will be happy you did. I promise.