I am totally ready for autumn for once. I can't wait to pull the sweaters out, and start using my boots again. When it comes to home decor and entertaining I am also ready for some darker jewel colours and so this past weekend, when we had my family over for dinner, I said why wait? I had picked up these delicious sparkly place mats a few weeks earlier and was eager to use them. I decided to keep the whole look simple but I do have a few ideas for how to dress this style up much further. Maybe I will do some of them next time.
I used a brown table cloth and the new turqouise, sparkly placemats together with white napkins.
The white napkins and china really helps to brighten everything up. As you know, I prefer to use simple white china to let the food speak for itself on the plate. I'm not a pattern type of girl. I also don't have a "fancy" china. We decided to go with several different sizes of plates and bowls, all in white from IKEAs 365+ line and then mix them according to the food we are serving. It works well for us and I never have to worry that the china doesn't match what I am doing on the rest of the table. Also, since they are cheap I don't have to cry me a river if/when something breaks.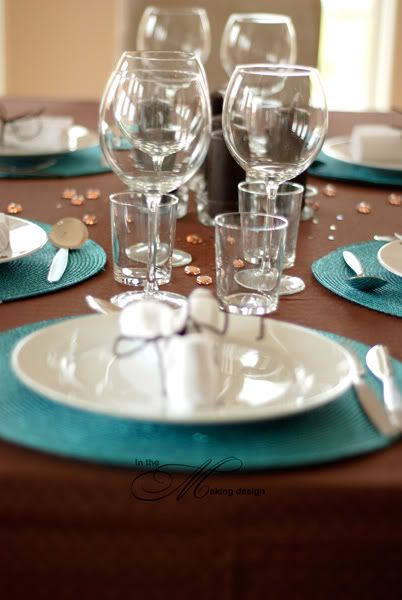 I tied a suede ribbon around each napkin and placed it on the plate. I think it's a great way of getting out of having to learn complicated folding techniques at the same time as it makes things less formal and stiff.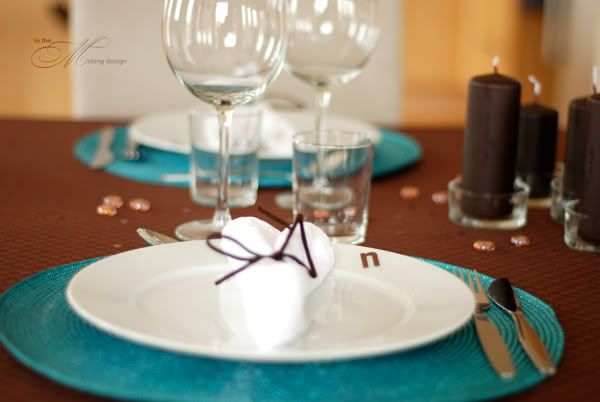 Instead of making seating cards I used sticky letters that I got from some scrapbook shop to mark the guests' place. The letters were easy to remove and after a run in the dishwasher what residue glue that had stuck to the plate was gone.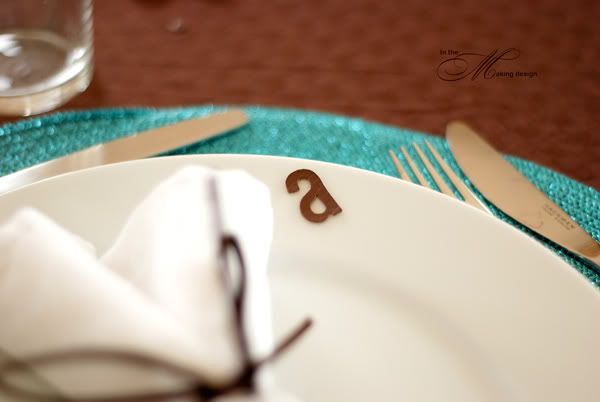 In the middle of the table I put smaller pillar candles in different heights and scattered a few glass beads and sequins in brown and turquoise.