My husband turns 35
today
and decided to celebrate the occasion by having a dinner with parents and siblings yesterday (and this is no small feat as there are 17 total). Being a chef he wanted this to reflect in the party. I immediately had this idea of doing a French bistro kind of look but to give it just a touch of modern. Our house is decorated in a, like someone remarked in a derogatory voice once, "post mod euro trash IKEA style" (LMAO!) so it definitely does not look like an authentic vintage-y French bistro. It's important to me that the whole experience is cohesive and so I knew we had to change it up a bit to make it work.
I created an invite based on a photo I took of my husband a couple of weeks back for his Facebook page (of all things). I seem to have forgotten to take a photo of the card itself so here is the design concept.
Front
that says welcome. The flourish frame is by Shaui at
FeiFei's Stuff
Inside
that plays on the restaurant theme and states that a one of a kind guest appearance will occur on October 24th and to call to make a reservation.
The table was dressed with a white table cloth and a runner with a modern flower print. For the runner I simply bought some fabric at the fabric store and cut it to size. I didn't bother to sew this one as the fabric itself was very sturdy and kept its shape. That, and I am unable to operate a sewing machine. However another type of fabric might need sewing not to fray.
I went with all white china (you know my stance on this by now, right) and white linen napkins simply folded twice. As an aside I read an interesting article a few years back about the Grand Hotel in Stockholm where the manager said that they never do complicated folds as this means that the napkin is tainted by the hands of the folder. So to keep the touching of the napkin to a minimum they simply fold it twice. That spoke millions to me. And a simple girl likes simple solutions.
To break from all the white I used black candles in the glass candle sticks I got from from IKEA. It may seem bold but I think it looks very classy and brings some warmth to the table.
I sprayed three small table easels, also from IKEA, with silver paint to display the delectible menu which was created in style with the invite.
I prefer low center pieces as I think higher ones can get in the way of conversation. So these faux roses in tea light holders, again from IKEA, filled with organza ribbon together with white tealights and the black candles formed a perfect mix and created enough variation to keep it interesting. To pick up on the glow from the candles I put glass pebbles along the runner.
I found the cutest little fridge magnets in the shape of kitchen utensils that were perfect for favors. I made small boxes out of overhead film (because honestly, who uses that for anything else this day in age), attached a small sticker that says thank you and placed them on each plate.
I created small chef's hats with each guest's name printed on it and slid it over the teeth of the fork at each setting. I think it turned out awfully cute and in keeping with the theme.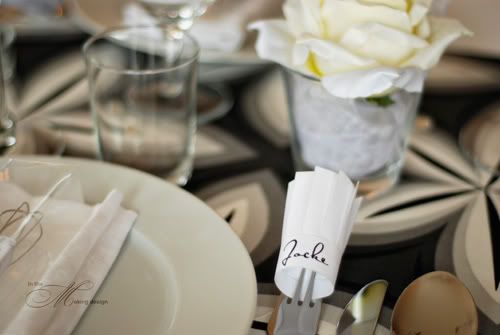 And just because I love the glow of candles here are a few photos that I took right before we sat down to eat.
After dinner we had a food quiz which I had designed to look like all the rest of the paper goods and for prizes we bought small cook books on sale at our supermarket. I think doing small things like this makes it all a little extra special and I believe the guests feel that little more taken care of and welcome.
And that is about it for this time!