Welcome to the celebration of the year! That's right, this weekend we are going all out and partying til the sun goes up (and down, and up, and down again) to celebrate that
JessicaSprague.com
turns 3. Woohoo!
And what better way to celebrate a birthday than with a bombastic and bootilicious bloghop (ok, so rhyming isn't my forte exactly, lol)? Right, I can't think of anything either.
First, if you came to me directly, please go and see the birthday queen herself,
Jessica Sprague
first, so that you can participate in the whole bloghop. I assure you, you do not want to miss any part of it.
OK, so here are the rules to abide by:
Easy peasy right? You just go from blog to blog to blog ... to blog and so on ... yeah, there are 33 of us participating, which means 33 pieces of awesomeness! :D Once you have all the downloads, unzip them and find all the little quote strips we have included in our files. Put them together into a full quote. Email
Tori
to have a chance at the prize at the end of the rainbow.
So what does my contribution look like then? And how to get it?
Here you go! Click on the image below and the kit is yours.
Sorry the bloghop has ended. Please check
my shop
as of next week, where you will be able to purchase the kit.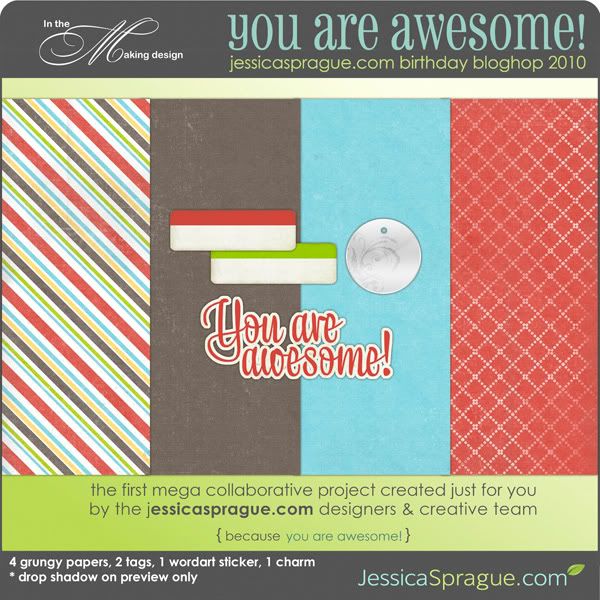 Now, to continue the party, go and see my girl
Danielle Thompson of Kitschy Digitals
. She's got a great mini kit for you as well.
Also, remember that we have lots of other goodies going on:
*The store wide sale (all digital products and all current self paced classes) of 20% off is still going on.
*Registration is going on for the forthcoming FREE class "Computer Tricks for Cards".
*The birthday challenges are going on all weekend in the forum - the first challenge is live now!
Have a wonderful birthday weekend everyone!