It's been what, six or so months since our holiday trip to Italy? Yeah, time moves fast, for sure. I think I started on the book about the trip about three weeks after we came home. I got real far. Two pages far. I totally suck at keeping things up. This was not the first book I started without being able to finish the damned thing. I also started a book about a weekend trip to Milan a few years back. That book has twelve pages or so. Really pathetic. :)
But anyway, I hit a major wall recently with regards to creating and decided I should give myself a break and just play around a little. After all, I have been working non stop on things for almost a year now (gah, next month marks my first anniversary as a digi designer, but let's get back to that later).
One thing I like to do when I feel in a rut is look at pictures. Quite often my own. Mostly of lovely times, like sunny and relaxed days filled with ice cream and love. It makes me happy. Happy that I got to experience it. Happy that I got to capture it in a photo. Happy that many of those photos don't suck entirely.
So that was exactly what I was doing the other day, when I felt a real punch in the gut of inspiration to scrap. And not just any old layout. No, I felt I had to scrap our holiday. So off I set, pulled out the photos again, and the kit I created with the book in mind all those months ago;
La Storia
. Now I just needed to get going again. And it's been going well. I have created 16 pages in three nights by the telly. I am quite pleased. One thing that has helped me tremendously is Nisa Fiin's awesome template album set coming very soon; Classic Album templates. I think I might be able to finish this time, even if it takes me a month.
Here are pages 12 and 13 of my book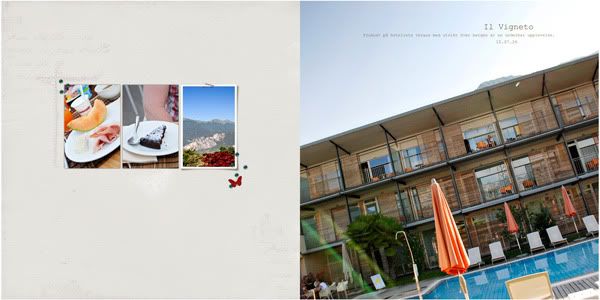 _ _ _ _ _ _ _ _ _ _ _ _ _ _ _ _ _ _ _ _ _ _ _ _ _ _ _ _ _ _ _ _ _ _ _ _ _ _ _ _ _ _ _ _ _ _
Supplies
La Storia Paper Pack and Elements Pack by In the Making Design
Modernist Elements Pack by In the Making Design
Classic Album Templates by Splendid Fiins
Stitches by Anna Aspnes
_ _ _ _ _ _ _ _ _ _ _ _ _ _ _ _ _ _ _ _ _ _ _ _ _ _ _ _ _ _ _ _ _ _ _ _ _ _ _ _ _ _ _ _ _ _