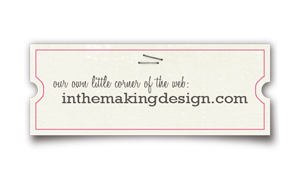 Yes it's true folks!
inthemakingdesign.com
is the new adress for this little corner of the interwebs!
I am happy and excited and proud that I finally got off my behonkey and got to it. I've been meaning to do this for ... um years. LOL!
Please update your readers and favourites so that you don't miss anything! Blogger is supposed to send you to the new adress, should you use the old blogspot.com one, but so far they've been a little lax about it.
If you want to contact me just click
here
. I have also updated the contact info over on the right so that you will be able to reach me whenever you need to (just click the @ icon).
If you are having trouble seeing anything just give me a shout!
Welcome!