Alright, two weeks to cover in this post! The week before last I was determined to learn how to make a French braid. I have never been able to get it right before but lately I have been quite tired of ust keeping my hair hanging straight or in a pony tail. I had about as much success with this as with the sock curls the other week, but I kept going until I thought my arms were going to fall off. The result? Messy, loose, but French. Not the prettiest, but there it is.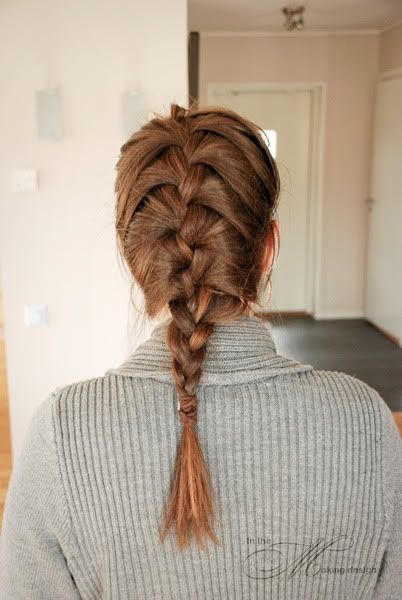 Of course, I also
cooked
that week, and that was a better success than making hairdos.
I had on my list of things to do this year to celebrate my birthday with champagne and a beauty treatment. Of course, I've had champagne before, as well as many a beauty treatments (lord knows they are needed), just not ever on the same day, and never on my birthday. So I made an appointment for a haircut and had a nice relaxing time when she washed my hair and massaged my scalp and then made my hair look all soft and pretty. When I got home we sat outside in the garden and enjoyed a really nice Taittinger before digging into the crayfish.
This is me looking dorky (pre haircut) during lunch courtesy of the husband.