And here I am; entering my last year as a 30-someting. I am a bit torn on the whole thing. I don't mind time moving on, but I admit to feeling a bit unsure about approaching 40. To me it feels like it brings with it a whole lot of expectation. To have arrived. To be where I'm supposed to be in life. To feel like I am secure in myself. I'm a not sure I am quite there yet, and it stresses me out a little. Granted, I get stressed out by a great deal of things.
But I am determined to make this last year of my 30s a great one with lots of good experiences and challenges. We have already started last year with the 40 before forty project, of course and that will keep my plenty busy. But I have also decided to try and document my year in the shape of Project Life album. I spoke about this
last week
.
And so, my first two pages, of my first week as a 39 year old, get to start it off.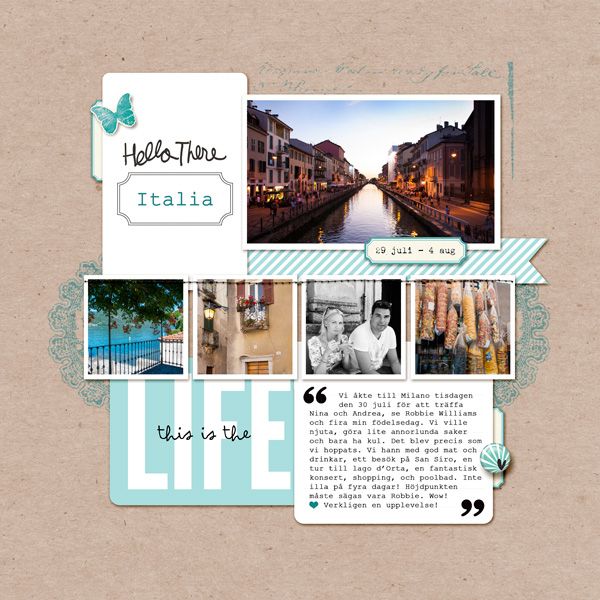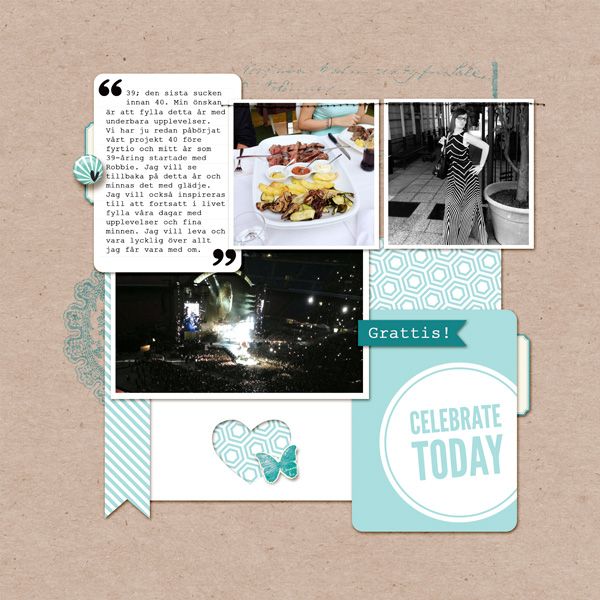 (Supplies: Becky Higgins Project Life Midnight, Becky Higgins Project Life Kraft, Becky Higgins Project Life Seafoam and also Crate Paper Maggie Holmes Kit, Life365 Buttons by Karla Dudley, In Stitches Neutrals by Robyn Meierotto, Homebody kit by Scotty Girl Design)
As you can see, and as I spoke about in my
last post,
I have decided to not follow the pocket system that
Becky Higgins
has formulated but rather try to stay true to my own style with layers and a few well chosen elements to help tell my story. I think that the Becky Higgins Project Life products that are available digitally at
Digital Project Life
are perfect even with my formula.
I am very happy with these first two pages. They let the photos take center stage, and there is ample space for journaling thanks to the journaling cards. I like the centered, layered look. Of course, I had lots to say seeing as we were on holiday this week and the photos are excellent seeing as they picture Italy, but I hope I can continue to keep this formula.
I haven't yet made a title page, but I am thinking that I might do a simple compilation of photos from the last year once it has passed. But we'll see. For now, I am just going to be happy that I created my first two pages.