Just to prove that I haven't fallen off the face of the earth, I'm coming up to the surface to post a layout that I made in a contemplative mood.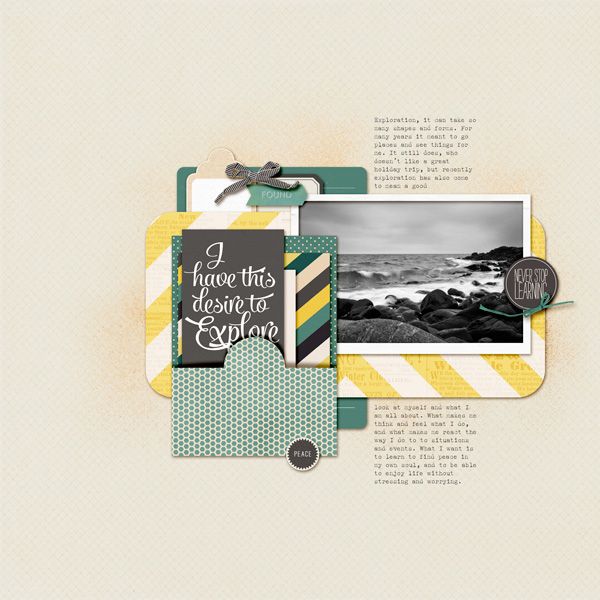 (Supplies: Pocket Journal Card Templates | Notched by Simply TIffany Studios, Be Thankful | Mini Kit by Robyn Meierotto, Curiosity by Pixels and Co designers)
Being on a journey of trying to come back from exhaustion and depression means looking real hard at some harsh truths about myself. At the moment I'm at a place of trying to embrace that, trying to enjoy learning more about myself and how I function. That is pretty much what was on my mind when I created the layout.
The photo doesn't really, in itself, have anything to do with what I am journaling about. I took the photo over a year ago at an outing with my husband and father. It was a very windy day with dramatic waves and clouds. It took a lot to get any good photos standing on the slippery rocks at that beach. But in the midst of all that drama I can now sense calm and what I remember is a silent determination to not get it right, let a lone perfect, but to at least try. That is exactly what I want to be able to apply in my life as a whole. There might be drama all around me, but if I can be secure in my own self and know that no matter the outcome I am me, then I think I would be really happy. So with that I feel the photo fits perfectly.
See how deep and soul enriching scrapbooking can be? Shapes, and colours, and patterns in a digital file encompasses the difficult premises of this thing called existance. Amazing isn't it?
And with that, I bid you a good weekend. I will be back Monday with two weeks of Project Life!