I bet you never thought I would be one of
those
, did you? Unprepared and setting the table for a dinner party ten minutes before the guests were due to arrive? Unheard of in this household! But this Easter it actually happened. Not once but twice. Two days in a row. This weekend I really had to wreck my brain and work fast to make it work.
Day 1
On Friday we had five people coming over for dinner and drinks (and a go round with Playstation Sing Star). I spent
all day
cleaning. We have been very busy in the last couple of weeks, not having had time to do any sort of cleaning, and thus the house looked like a complete dump. I had no time at all to even think about the table setting until after I had showered and made myself look reasonable presentable which was indeed ten minutes before our guests arrived.
What did I do? Threw on a wrinkly, albeit clean, table cloth, put the tulips we got in the supermarket two days earlier in the center of the table, rumamged through my candle stash and found four blue floating candles that I put in small water filled glasses. I accompanied that with blue linen napkins from my mother and whiteand blue china. Once the food was on the table and the lights were dim nobody could see that the linens were not ironed and it came together looking quite sophisticated and classy.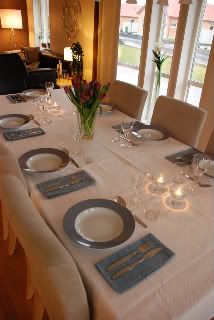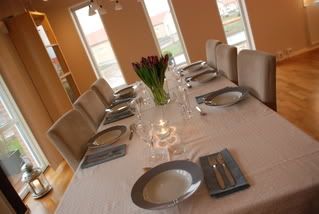 Day 2
We had two guests coming over. The day was spent shopping for food and going to see our godchildren to give them their Easter presents. So again, no time for planning.
What did I do? Well, I did get up early so that I could wash the table cloth from the day before. It was dry an hour before the guests arrived so I had just enough time to iron it. I used the same flowers as the day before and added a strand of brown and rose coloured beads around the vase. I found matching paper and punched out little hearts that I scattered along the center of the table. I folded the white linen napkins to make them look a little more interesting and stuck the cutlery in the pocket. I tied some ribbon around the plain white candles to dress them up a bit and then used all white china. This made for a very clean and simple look that let the food (which was fabulous) shine and take all the attention.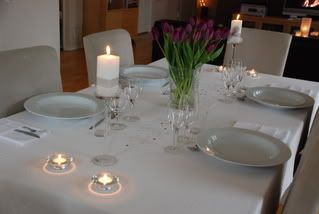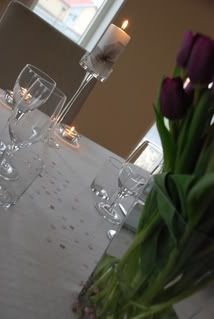 My two random tips:
Use linen or cotton napkins instead of paper. It's a more eco friendly alternative and it gives a more luxurious feel.
Give fresh flowers new water every day to make them last longer during holidays. This way you don't have to get new ones if you are having several parties.