Week three was a very busy week for me and I did not get to finish all the challenges throughout the week. I did finish the two assignments that followed with the week lesson.
This LO was designed by Jessica Sprague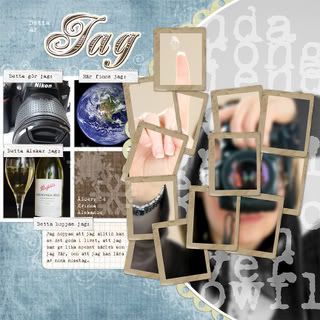 (Credits: KPertiet_Notebook-8, KPertiet_PhotoboothFrames-15, KP_StitchedJournallingStrips-3, KPertiet_GrungyClusters-5g all by Katie Pertiet, JS-ScallopCircle, JSprague_BeautifulEvidenceAlpha both by Jessica Sprague, NRJ_PDQ_PATTERN2 by Nancy Rowe Janitz, fingerprint by LJonezy, font is VT Portale Remington, globe photo from google, All other photos by Linda Roos.)

Journaling: I hope that I will always be able to see the good in life, give as much love as I recieve, and learn from my mistakes.
Second assignment was to add on to the layout so that it became a double pager.
(Credits: Same as above)
I added a picture of me with my camera, what I want (roses), what I wear (shoes), what I long for (Christmas) and what I need (chocolate and my husband). I added two strips at the bottom that say: I am loyal, dutiful, open-hearted, cheery. I have opinions, principles, cold feet, warm heart. Oh, and in the brown squares it says: Age: 34, woman, lover, house owner, wife, realist, minimalist, big sister, myself.