I actually had the chance to sit down and do two new layouts this week. I haven't scrapped anything for a really long time so I felt it was time. Not really happy with the results but at least it got my apetite for it back and that is always a good thing.
Natural Beauty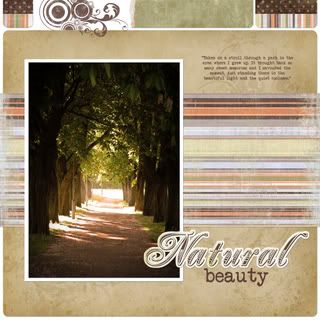 (Credits: FairyDreamer-8 by Katie Pertiet, paper5_hismonday by Jen Wilson, MCO_PP6 Vintage Dreams Retro by Michelle Coleman, NRJ_PDQ_PATTERN2 by Nancie Rowe Janitz, FUNKY_VINTAGE8, by Nacie Rowe Janitz, MCO_CornerCirclesBrush, JSprague_BeautifulEvidenceAlpha)
Pretty in Pink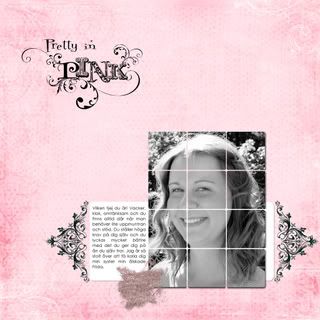 (Credits: template 42 by Timounette, ArtWHSE_InteractiveLoveCircles-25, CheckerberryCorner_pinkglitterstroke_LHoddinott, Kskd_pe_krafty_pink_gem, Kskd_pe_valentinefreebie_journaling, RhonnaFarrer_2ps_PinkOctoberThink, RhonnaFarrer_2ps_PinkOctoberThinkswirledpaper)
I will be back with a new card I made in a little while.