For the longest time I have been looking for a camera bag that doesn't look like a camera bag. I have an aversion to the black and grey and oh so boring standard cameras that just scream "come and steal my camera". I wanted something that looked like a regular bag. Something pretty but functional.
Not being able to find anything I liked without having to pay a leg and an arm I complained to a co worker of mine a few weeks ago. She mentioned that perhaps I should consider a smaller bag that I could put inside my regular bags and hence get the protection the camera needs as well as nice looking bag.
Of course this would mean that I would have to make it myself. And though I love crafts, sewing is something I am really really bad at. What to do? Ask a friend! :D I have the most awesome friend called Anneli who agreed to help me out. She is a woman who can do everything. And I really mean it. From beautiful greeting cards, to yummy cakes, to gowns, to [insert anything here]. So I got the fabric and the padding and gave her a sketch of what I had in mind and this is what she came up with: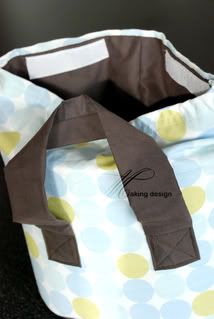 Is it not beautiful? It fits beautifully inside several of my hand bags and the Nikon fits snugly and comfortably inside. I am so happy with it and so greatful to my dear friend Anneli.