For the forum challenge I posted about
here
I made a hybrid card. I made the "paper part" of the card in one PS file and then the tag in another and printed them seperately. I added ribbon and pearls and then the tag.
(Credits: Fairy Dreamer 8 paper by Katie Pertiet, Grunge brush by Katie Pertiet, Home Away From Home stripe and brown paper by Jessica Sprague)

But then when it was finished I thought it would be cool to use the same design for an all paper card. So yeah, I made another one. :)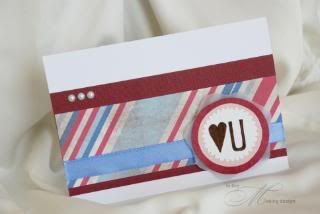 I have to say, the texture and depth is so much better with the all paper card. But then the flip side of that is the versatility and endless possibilities of digi.