I came home from a work related trip late last night to find that winter had arrived in our part of the country. Most often our winters consist of heavy winds and rain (oh glorious joy - not) but yesterday everything was white and pretty. Just before I went to bed it started to snow again and it made me so happy (very stressed, but happy) that we've only got a little more than a month to go until Christmas is here.
So what better way to celebrate the beauty of snow than putting up a freebie paper kit for grabs? Yeah! I have created a little paper kit inspired by the traditional Christmas colours but presented in a more modern way. Each paper comes in two versions; one clean and one stone washed (remember those jeans we all wore in the 80s?).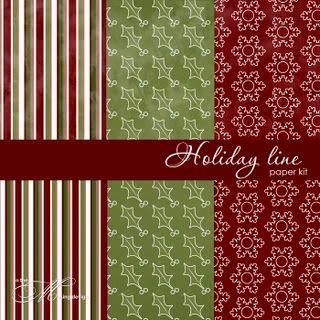 If you like it you are very welcome to download it by clicking on
this link
.
I very much appreciate your comments so please leave on here or at 4shared if you download. Also please do make sure to read the TOU and follow them. I would love to see your work with my products so don't hesitate to link me up if you use them!
I'm off on a weekend of creativity with two different gettogethers in two days. I will certainly make sure to have lots of fun! Have a great weekend everyone and I hope to see you soon again.