I know I have been scarce this past week but I've been hit with illnesses which have left me feeling all but interested in spending time on the Internet. First I had three days of killer migraines and now today I woke up with a bad cold that has a tight grip on the whole swallowing/breathing/hearing apparatus. Nice.
I have been asked to do the decor for a 35th birthday party on Saturday so I'm doing some research on that at the moment. Colour theme? Brown and lime green. Cool combo which I think will look smashing with stark white china. I will do a follow up post with how it turned out in a week or so.
But why I'm really here is because I have created my first ever freebie paper kit and I'm offering it up to you! It's a little out of my usual style but I like the warmth and cozyness of burgundy and gold together so that is the colours for this little mini kit. I hope you like it!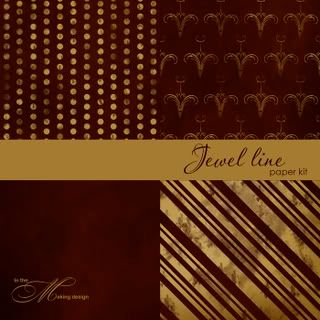 You can find the download link by clicking
here
!
Please, if you download, leave me a message, and please do remember to follow my Terms of Use. If you use any of my products I would love it if you linked me up! Thanks!
Now I'm off to cure the cold. See you all soon again!