So I came back to life after getting hit by that cold at the beginning of the week and was able to get everything together for the party I was asked to decorate on Saturday. There was some last minute shopping panic when I couldn't find the perfect paper napkins but it worked out ok in the end. Somehow it usually does. The colour theme was brown and lime green. I decided to keep the green a little subdued which I think was a good decision. The finished deal looked very sophisticated and classy.
I used brown table cloths that I aldready had and bought a green silk fabric that had a beautiful brown velvet pattern to create a runner across the length of the table.
I found brown paper napkins that had a gold/copperish flourish pattern that went well with the rest of the stuff. I made little cards that said welcome that was placed on each plate. The cards were made up of brown cardstock cut with a scalloped scissor and strips of textured green paper. The word was hand written and cut out in the same green paper. The hosting couple had their initials in brown on their cards.
I covered the square vases, also in my stash, with strips of green scrapbook paper and stretch lace and found the cute little green buds in a local flower shop. I think they went perfectly with the theme.
The green candles have a string of brown suede tied around them to match the softness of the velvet on the runner and I used clear votive holders (again, in my stash - I bought 50 of them for our wedding 7 years ago and they have come in handy so many times since then) to enhance the warm feeling of candle light. To pick up on the glare of the candles I used copper glass beads and green and brown sequins scattered on the silk runner.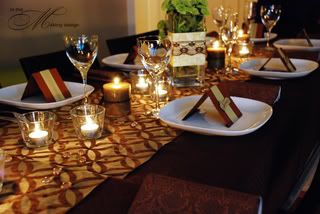 I am so pleased with the outcome and it all worked so well with the room the party was held in as it is decorated in brown, tan, and green. A little of the fabulous wallpaper can be seen above in the top photo. The hosts were extremely happy with my work and I was asked to do another party in the near future by some guests. Fun, fun, fun!