Ok, so I cheated and started yesterday, hehe. I had to have a photo for 1 Advent. I think I will do two photos on Sundays to get a special Advent mini album. Could be fun I think.
So here we go!
2008-11-30 Sunday, 1 Advent
Part of the wreath that I hung right next to our front door. The R is for our surname. The wreath also has a snowflake ornament and a snowflake ribbon.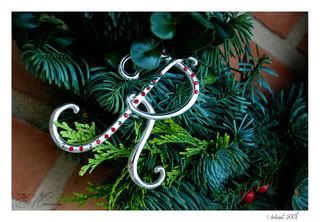 2008-12-01 Monday
I took a short walk in the park right next to my work on my lunch (half)hour. It was cold and gloomy and it mirrored exactly how I was feeling.