2008-12-11, Thursday
I started working on this card three weeks ago. I didn't get round to finishing it. I picked it up today and looked at it. Decided I hate it and will let it stay unfinished. Still, I took a photo of it because I thought it would be interesting to have photos of not only success but also reality, lol.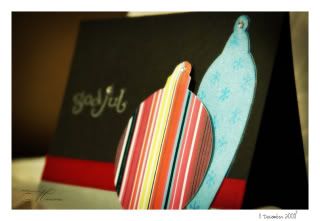 Our Italy album from Shutterfly arrived yesterday. Overall I am very happy with the result. Some of the B/W photos are too dark and some of the colour ones are too saturated. But otherwise it is perfect. I am so happy I stuck with the uniform design because it really brings the book together.
I brought the book to work to show some coworkers and I got so much positive feedback, a few questions if I could make one for them with their photos. One person told me to quit my day job, lol.