Oups! I fell behind a little with posting my POTDs. I have been good and taken photos like planned but with everything going on with Christmas it has just fallen down on my to do list. :) But here we go!
2008-12-17, Wednesday
I was working on wrapping our Christmas gifts and I really loved the colours of the ribbons all jumbled up on the table.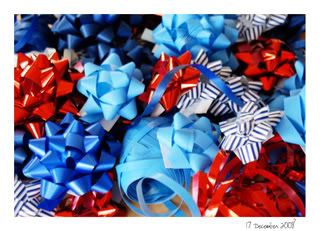 2008-12-18, Thursday
We were planning on what to serve a few days later when my dad, his wife, and my brother were invited to dinner. We had a bunch of cook books out and I was lazy that day and snapped a pic of them.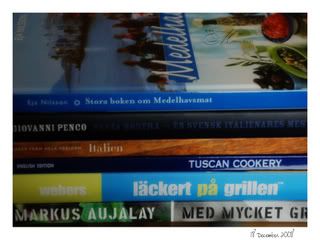 2008-12-19, Friday
This was the first day I cheated all month. I was so tired from a bad cold that day and just couldn't bring myself to do anything. So this photo was actually taken on Saturday. My mum and I made some Christmas sweets. This is a marzipan pig dipped in chocolate. My favourite thing to make around Christmas, lol.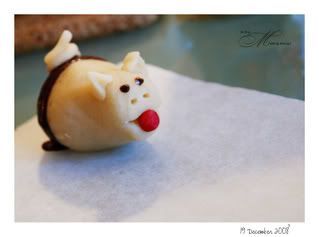 2008-12-20, Saturday
Also from our treat session. We made ginger bread and it all went very well until I was to decorate them. I accidentally cut off too much of the bag and the icing just spilled out. So they didn't turn out as pretty as I would have wanted. They still tasted good though.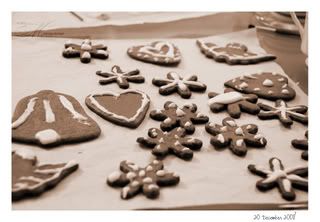 2008-12-21, Sunday
My dad's wife made these little Santa girls for me last year.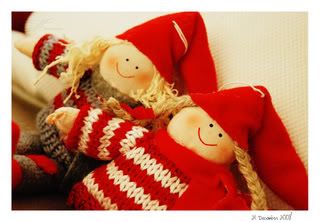 2008-12-21, 4 Advent
Another ornament in our tree.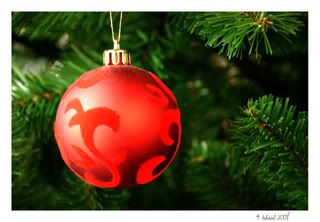 2008-12-22, Monday
A small Santa decoration at my mum's place. I think it's cute and unusual.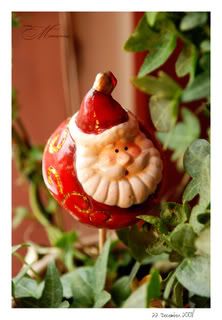 2008-12-23, Tuesday
We had my dad, his wife, and my brother over for dinner (such a yummy one too) and here's the table all set and ready for some action. I will, by the way, make a separate post about some festive table scapes on Sunday.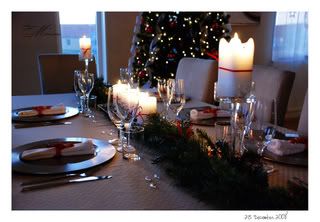 2008-12-24, Wednesday
Christmas Eve! This is my sister and her new fiancé. They got engaged on Christmas Eve. Naturally they had to be the focus of my photographic attention. I just love how beautiful they are together.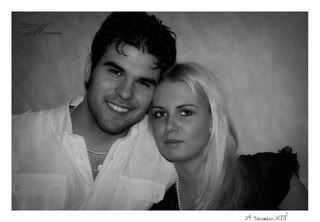 2008-12-25, Thursday
After dragging my feet all day I took out the camera very late and took some pictures of the tree when the room was all dark. I love the twinkle the lights get in the dark.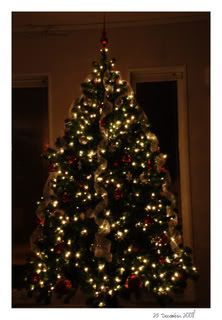 Whew, that was it. Just a couple more days to go this month!