We had two dinner parties over the holidays. With the first one I wanted a classic, rustic Christmas-y feel, and I also needed to save space on the table for food platters. So simple it had to be.
The base was a beige linen table cloth and white linen napkins, both with a checkered pattern. I used silver chargers and then matched that with all white china. I put a faux garland across the length of the table and tied red satin ribbons in it. I went with all white candles in both round and square shapes and combined the low centerpiece with two tall holders at the edges of the table. I tied the same ribbon on all the candles as I used on the garland. The napkin rings are little santa girls made of porcelain. I scattered glass beads on the table to pick up on the flicker of the lights.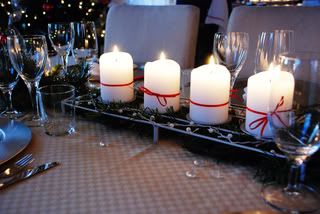 For the second one I wanted to go with my favourite theme; snowflakes. I had planned on a few projects that fell through due to lack of time. So practicality had to win since I needed my beauty sleep.
I went with a white linen table cloth and white linen napkins. I used the same center piece as on the first one but changed the garland to a strand of snowflake shaped lights. The silver chargers combined with black snowflake adorned plates served as the canvas for the rest of the china which was white and silver. I used my favourite napkin rings that have delicate snowflakes on them and tied glittery white snowflakes to the tall candle holders. I scattered the same glass beads on the table but also used some really thin silvery twine around the strand of lights.
I also printed menus that I put at each setting but that is not pictured because I only remembered them right before we sat down to eat. Yeah, a bit of a blonde moment there. :D
By changing just a few details I was able to produce two completely different table scapes. My husband calls me a hoarder, and maybe he is right, but by having a lot of different things I am also able to change things up quite a bit.