So here we are, the last installment of the December POTD series. I feel pretty accomplished because I was able to take a picture almost every day (with only two misses) despite illnesses, travels, holidays, and a busy, busy month at work.
2008-12-29, Monday
Johan made saffron semi freddo for our dinner party on the 23rd. We had two portions too many and forgot about them in the freezer. We took them out on Monday. Of course, by then they were way past semi and pretty much just freddo, lol. But they still tasted good. Well, the first three spoonfulls. Then all the cream got to me and I started to feel a little sick. I got a photo out of it though.
2008-12-30, Tuesday
I got a package from my dear friend Karri with some pretty awesome Christmas (and belated birthday) presents. In the package there were, amongst other things, two place card holders that had the most beautiful snowflakes at the base. This is one of them.
2008-12-31, Wednesday
The last day of the year was a flurry of activity in order to get ready for the big birthday party we were going to in the evening. So I only had time to sneak in a photo of the flower I have in my bathroom.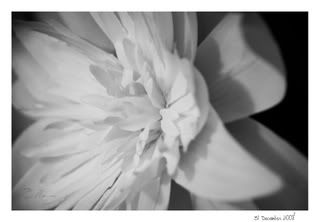 And that, my friends, concludes the POTD challenge for this time. I will without a doubt do this again, but now I need a break from "musts".
I am wishing everyone a happy and healthy 2009!