Despite coming down with another cold - what, number 5 this year? - I wanted to do something special for the dinner with my husband's brother and his family last night since the food would be pretty fantastic courtesy of my resident chef.
The other day
Hostess with the Mostess
posted about her 5 best tips for hosting a party (check it out by the way, it's good) and she asked for some tips from the readers. My #1 tip for any host or hostess is to hoard, which I've talked about before, and to stock up on decorative and functional party items when they are on sale.
So to demonstrate that it is indeed possible to make a beautiful set up with inexpensive items I decided to go with a bargain style theme.
Because I'm an idiot some of the pictures have lit candles and some do not. Deal with it. :)

OK, so the base is a white linen table cloth. Bought on sale a year ago. The napkins are from IKEA. Not on sale but still not expensive. Black and silver runners were bought on sale just after Christmas. The chrystals hanging from the chandelier is from this year's Christmas collection at IKEA. Also bought on sale in January.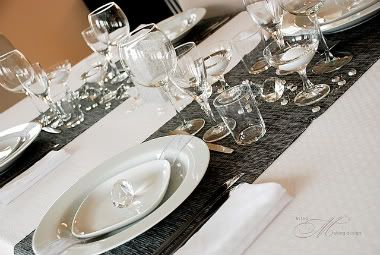 Our china is from the 365+ series at IKEA. We use it for every day and special occasions. It is simple and let's the food speak. I like that. I also like the price tag. The red wine goblets are also from IKEA. I love how huge they are.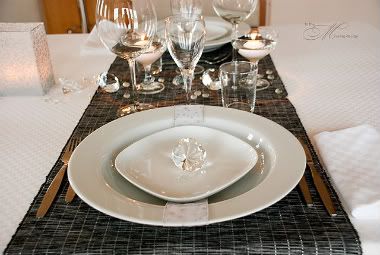 I used white translucent ribbon with silver print to wrap the bigger plates. I've had the ribbon for ages so I can't say whether or not it was cheap or not but since I've had it for so long I think it can be defined as free, lol.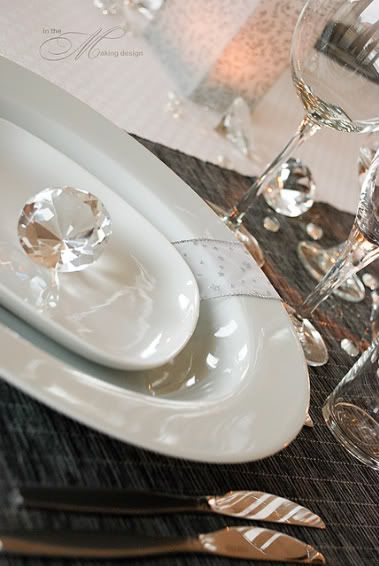 I wrapped velum around a square vase from IKEA and put two tea lights inside to create a lantern. The light from the lantern was really soft and created a great atmosphere.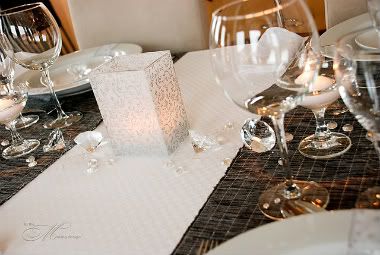 I had my eye on the diamond shaped glass ornaments for several months last year. The place where we go grocery shopping had them in their candles/napkins section and I would pick them up every time I passed by them. But I never got them. Not until I discovered that they were on sale for
about a dollar each after Christmas. I picked up the whole stock. The round glass beads and silver twine was part of plant/candle combo gift I got a few years ago. Once the candle was burned and the plant dead I picked the thing apart and kept what I thought would come in handy. Another great way to keep the costs down.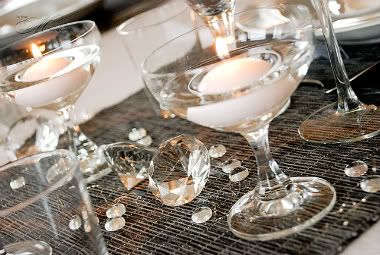 I put floating white candles (again, from IKEA) in vintage champagne glasses that I inherited from my grandmother. I thought the champagne touch would go well with the diamonds.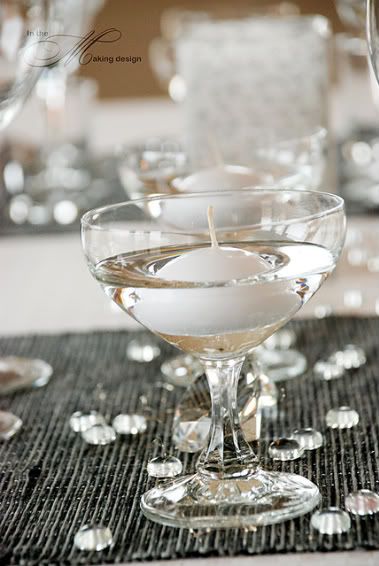 And there you have it. I got nothing for this dinner especially. Everything was in my house already and most of it was inexpensive.