Alright, as dysfunctional and crazy as we may be in this house from time to time, I do dare say that we are not quite as crazy as the lot on the actual TV show (and if anyone comments here disputing that statement I will have to hunt you down, so be warned, lol).
We do have an office, though. Or at least half an office. How does that work, you ask? Well, our house has three bedrooms. In one, we sleep. The second doubles as a guest and whisky room (and by now you might be thinking that we really are loons, but my husband loves and collects single malt whisky and we keep the bottles in cabinets in that room). The third one doubles as a dressing room and office. I sometimes wish we had another room in the house so that we could have one office and one dressing room. But alas, that is not the case and we're making it work.
The layout of the room was not working perfectly for me. I have stuff. It's not overwhelming, not by my standards at least even if my husband might beg to differ, but there just wasn't enough storage in there. So we moved around a little in there and got some new furniture and knicks and knacks. It's still new but I think we like it better.
The room has a north facing window, so it's not getting a lot of light, and we had kept the colours very uniform; silver and grey with the only exception being the wood of the furniture. So to spice things up a bit I chose to bring in some red.
Coming in the first thing you see are our wardrobes. Yah, you can't see a third of the lot, and yah, I have a lot of clothes. A girl's gotta do what a girl's gotta do.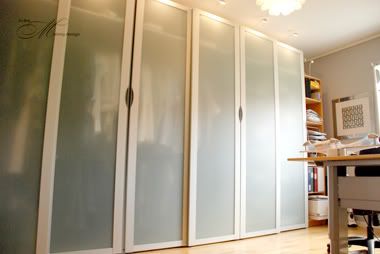 Looking into the room you see the desk (please excuse the mess in the small shelf at the end, I am hoping to tend to that next weekend). On the desk is the lamp we bought but have not yet put up.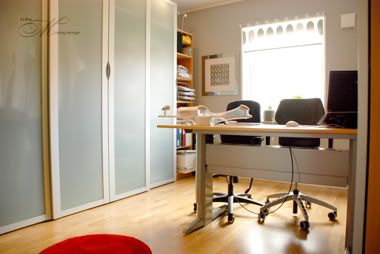 Standing by the desk, looking back towards the door, you see the shelf where I keep all my papers and some of the craft stuff. I plan on writing something fun on the wall above the mirror. I just don't know exactly what yet. Suggestions are welcome.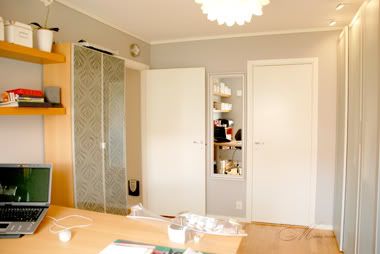 We chose to cover the glass doors with leftover wallpaper from our bedroom accent wall. The rugs on the floor are actually bath maths, but shhhh, don't tell anyone.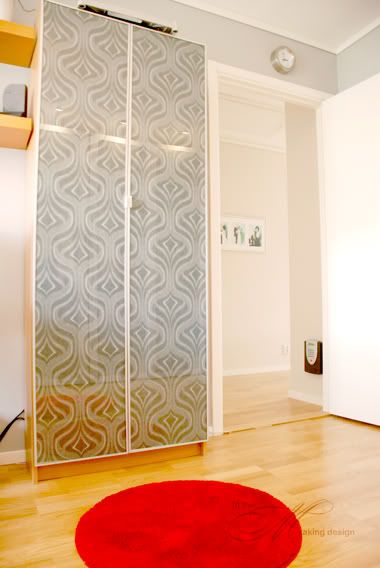 Behind the desk you find the new furniture, which basically are two shelves. Earthmoving, I know. As you can see all the boxes and jars are sitting there ready, waiting for me to fill them with my things. Again, I hope to do this next weekend.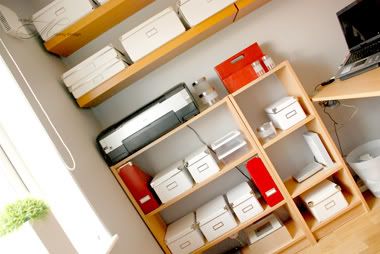 On the wall above the desk we have shelving where we keep important things like cables to old and no longer existing computers and cameras, instruction manuals to said computers and cameras, and other fun things. I am planning on putting three small photo frames in that area right above the desk under the shelves where I can rotate some of my work.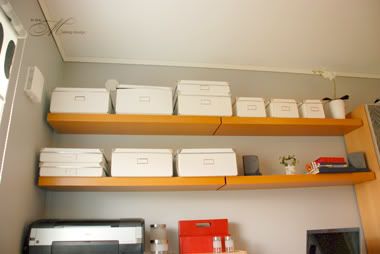 And that's it my friends. My office. It's not like I imagine Martha's home office to be. Heck, it's not even what I would have wanted had not those blasted wardrobes been in the room (I dreamed about a huge island, and a beautiful lace wallpaper covering one wall). But it works. And I guess that is more than enough.