And now you're getting the answers! :D
Mirjam asked:
What is my favourite film and book? And will I be sharing more digital papers?
My answer:
I am such a film buff. I love watching films and always have new favourites. Narrowing it down to one is downright impossible for me. But I do love The Commitments, Four Weddings and a Funeral, and Mystic River. Also, anything where Hugh Jackman takes his clothes off will get a good rating from me, lol.
I have two favourite books. The first one is To Kill a Mockingbird by Harper Lee, and the second one is Macbeth by William Shakespeare. There was one book I read while at university that scared the crap out of me but I still loved it. It is called The Collector but I can't remember who wrote it, sorry.
I will be sharing more papers and templates here for sure. I am working on a paper kit but have a couple other engagements that I need to finish first (deadlines) so it might be a little while. I hope y'all are ok with waiting.
Nina asked:
What is my favourite picture? And what language is ok to post replies in?
My answer:
You can write to me in Swedish, English, a little Italian or German. :)
My favourite picture changes from time to time too. Right now it's one from our trip to Italy in August. It's the one in this layout.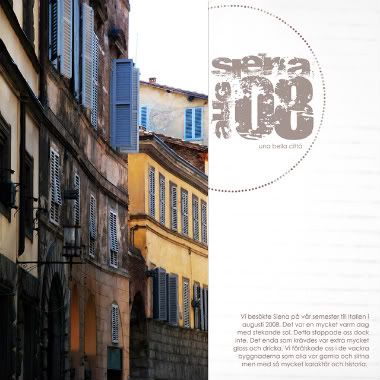 Tammy asked:
What is my real job? And have I considered starting my own design or event planning business?
My answer:
I work for a utility company as a coordinator. Basically my job is to provide instructions and information for the people working in my and four other departments, and to see to it that they work accordingly to the company processes and execute things in the correct way. I organize classes and write instructions that I publish at our intranet. I work a lot and there is always so much more to do.
I have considered doing something related to both design and event planning. I had this idea of buying a villa in Toscana and provide an all in one service for Swedish couples who want a destination wedding with invites, planning, catering, and photography. Buuuuuut, that's just a dream. And the reality is, being new home owners we need two secure incomes right now. So starting a business of my own will have to stay a dream.
Anke asked:
Where was I born and how did I end up where I am?
My answer:
I was born in a town called Malmö in Sweden in 1974. I have lived there all my life and still do! :) I want to thank you for your comment on my English. I am fluent in English so I get asked frequently if I am from some place else. But no. There is a really long story but let's just take the short one here for now and suffice it to say that I like the language.
Lisa asked:

What was a decisive moment in my life and what changed because of it?
My answer:
Oh gosh, I think you get the prize for the most difficult question, lol. I think one decisive moment was my 20th birthday which involved a broken heart and a major life crisis. It was the moment I grew up and lost my naive outlook on my life. It was a horrible, horrible time but looking back now I know it is such a big part of who I am today that I wouldn't want to change anything.
Another one, of course, was marrying my husband and feeling more secure and at peace than I had ever felt before in my life.
Frida asked:
What is my favourite song from the 80s and 90s? What was my most fab 80s outfit? And who is the most inspiring celeb I know?
My answer:
Hahahaha, well seeing as Rick Astley was the greatest love of my life when I was 15 years old I guess I have to say Never Gonna Give You Up for the 80s song.
90s song? Hm ... I was very into RnB in the 90s ... I'll go with ... heck I don't know!
I don't know that it was even possible to have a fab outfit in the 80s. I do remember a white tunic with big orange dots, an orange plastic belt and white ski pants. Yeah, gag me!
The most inspiring celeb? I have to say Oprah. I don't know anyone who works so hard to better herself and the world. I know she has made mistakes, but she tries. I admire that.
Tammy (again) asked:
What
is
my take on scrap ettiquette? And where do I find inspiration?
My answer:
Well, yeah, I very much believe in giving credit. I know some people don't care for it but it's not fun to see people use your stuff and not even recognising your work. I saw a direct copy (it can't even be called scraplift because the girl had even gone and taken a photo like mine) of a layout of mine that was published in DSM and there was no credit to my original layout. There were a lot of comments to her post, raving about how great it was, and it just hurt me. Because it was my design. It was my ideas. And she took the praise. So I always make sure I give proper credit. Always. And I wish others would too.
I find inspiration in everything and anything. It can be a photo, a colour, a word in the news paper, an ad out on the town, a conversation overheard on the bus, a dream, other people's layouts, textures, food, music. Anything really. Sometimes I feel really blocked and so I am working hard on breaking out of the box and thinking creatively and like an artist. That is a really big challenge though, I think.
Whew, all talked out now! I'll be back tomorrow with some layouts.