Even though it has not yet been publically announced on
Jessica Sprague
, I have been so antsy for the longest time to share my big news with you all, so here it goes:
Woohoo! I am too excited for words!
Since my very first delve into digi scrap land Jessica has been there as an inspiration and teacher, providing knowledge and tools for me to grow and push myself, and as someone to look up to design wise.
My very good friend Liv, to whom I gave a solemn vow once back in our baby scrappin' days to be the only one I would ever CT for, has become a wonderful designer with a competely unique style that somehow is both etheral and magical at the same time.
Crystal, who I don't know so well yet, has colourful and cute designs which right now make me feel very cheery and completely ready for summer!
I am so proud to be part of this team for the coming year and I am quite sure that it will be fantastic for my creativity.
This is my very first layout as part of the design team.
Galleria Vittorio Emanuele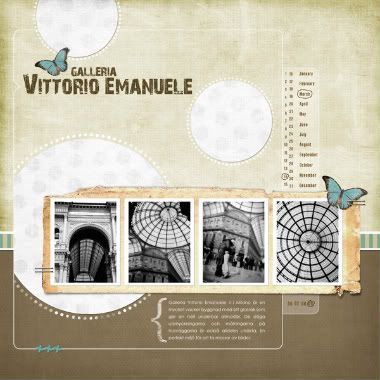 Credits:
JessicaSprague.com
Jessica Sprague

Template+ 04
Crystal Wilkerson
Office supplies staples and stitches
,
Neutral paper pack ,
Stripes paper pack
Liv Esteban
Gentle Morn kit
Designer Digitals
Katie Pertiet
Winged Clusters
Fonts
28 Days Later, Century Gothic