Remember the photo book I was asked to make for my sister's ILs? I finally finished it this past weekend and sent it off for approval. I got word the other day that they absolutely loved it and the book is ordered and eagerly awaited. Since the photos in the book aren't mine I can't share with you the results. You will just have to trust me that it turned out great. I used the
Create a book posted collection
by Katie Pertiet and the
A beautiful day kit
by Mindy Terasawa, all from Designer Digitals.
I am in the midst of completing the designs for the wedding stationary I have been working on for quite a while. The
invitations
went out in Aoril. What I'm doing now is the ceremony programme and also a booklet for the reception that will double as a place card, a menu, and that gives fun little facts about each guest. We also included some beautiful love quotes. They were both sent for approval tonight. I am hoping to start production this weekend. If the couple agree, I will be sharing them here shortly.
My new project, which isn't really all that big, is a birthday celebration.
Someone
is turning 35 in two weeks. That
someone
has decided to host a dessert buffé party for the closest family. And that
someone
wants a really cheery and bright theme that is still chic and sassy. The invites, that were hand deliviered (because of laziness mostly, lol) were created with this in mind.
And printed out it looks like this
(Credits:
Jessica Sprague
Liv Esteban
Alpha tag from Sing for Spring kit
,
Tape it up frames
Crystal Wilkerson
Colourful papers pack
Designer Digitals
Katie Pertiet
Rounded corner stitching holes
Other
Image from clipart.com
Fonts
Rosewood St, Santa's sleigh)
The next step to tackle is to find some fun decorations for the table. I have a few ideas that might work out really well.
I created another digital scrapbooking layout for
Jessica Sprague
. Orchard & Broome has a new kit out called Bleecker St that I loved right from the minute I saw it.
Torta della nonna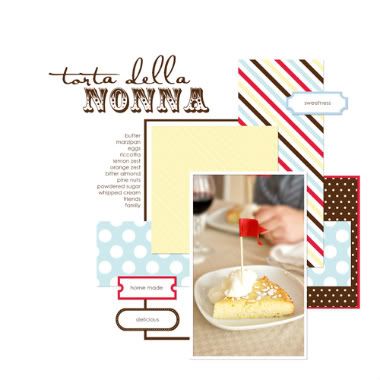 (Credits:
Jessica Sprague
Orchard & Broome
Bleecker St papers and labels
Other
Template by TaylorMade Design
Fonts
Circus, Satisfaction, Century Gothic)
Tomorrow is Friday! Yay!