So I have been working unbelievably hard in the last couple of weeks. With the last push at work before my holiday, with the wedding stationary, and with planning my birthday party. Last night, as the guests had left, I put my behind on the sofa and
could not
keep my eyes open. But it felt good because I pulled everything off. Luckily today, the first day of our holiday, has been rainy so I could spend it perched out, with the laptop in front of me. It's been a while, lol.
I thought I'd share some photos of the party yesterday. I do have a lot of other things to share as well, like Project 52 photos, a digi layout, and the stationary, but that will have to come tomorrow.
I posted about the party invite in
this
post. I used the invite as the jumping off point for the decor of the party. I pictured the party being colourful, cheery, and sassy.
I totally lucked out in finding the striped fabric on the clearance table at a fabric store. It matched the colours of the invite perfectly. With the fabric having so many different colours I decided to cut it to a runner and use white china. I altered hot pink and white napkins at each setting.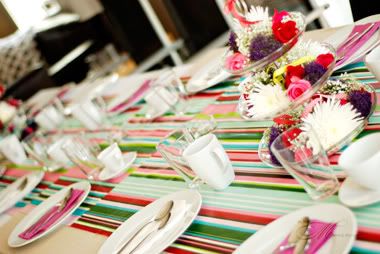 I used big plates so that the guests could load up on different cakes and desserts from the buffet. I also put glasses and then altered espresso cups, larger coffee cups, and tea mugs on the table to give the guests a choice of what to drink.
I spent three nights cutting and stringing scrapbook paper into flags that I hung across our dining area and over to the kitchen island where I had the buffet.
I hung pink glass from the chandelier over the table to add some bling (gotta have bling).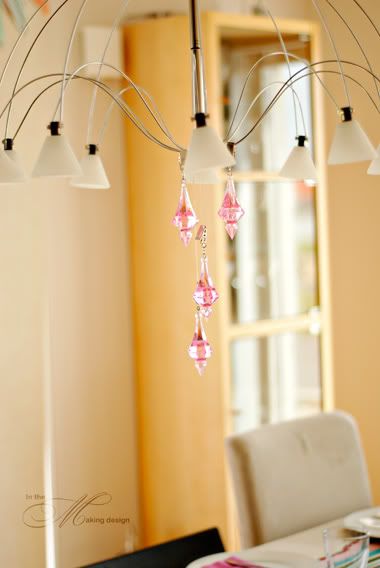 I saw a post a long time ago on
Hostess with the mostess
about a table scape from Brides magazine that I have been wanting to do for the longest time. It had a tiered cake stand full of flowers.
Actually, here is the link to the Brides pic
. So I got the stands from IKEA (which are ideal for flowers as the plates are deep and thus holding the water in), a bunch of fresh flowers and different coloured dotted ribbon. I am so happy with how this turned out. Thanks for the tip Jen!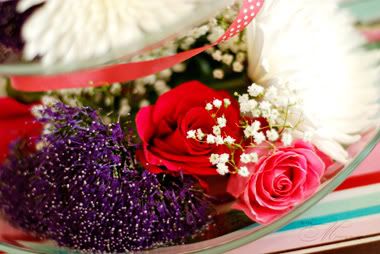 Now on the buffet I had all homemade cakes and desserts. I am
so
not a baker and it took me all night Friday, huge chunks of Saturday, and all morning Sunday to make everything. But thanks to delish recipes from one fabulous sweetheart; Swedish celebrity cook
Leila Lindholm
it all turned out amazing. I made two times too much and had to send some of it home with the guests as they left. But it's all good, lol. I think it made them happy.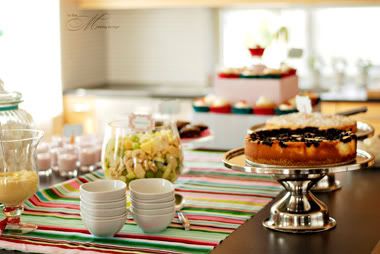 I had New York blueberry cheesecake,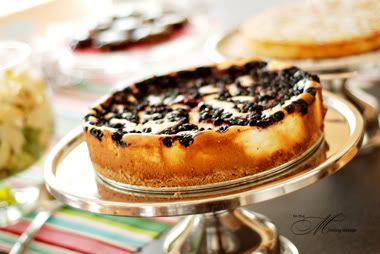 torta della nonna (which I think is my favourite ever cake). I made little labels for each item by using a digital scrapbooking label by
Jessica Sprague
(from her Thank Ya kindly kit),
chocolate chip walnut brownies,
creme brulée,
raspberry mousse,
fruit salad,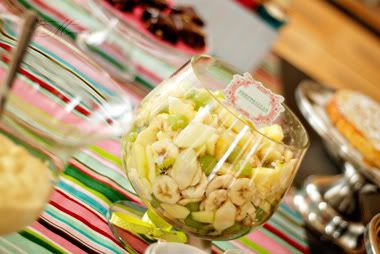 and a cupcake tower (inspired by Martha Stewart's beautiful creation).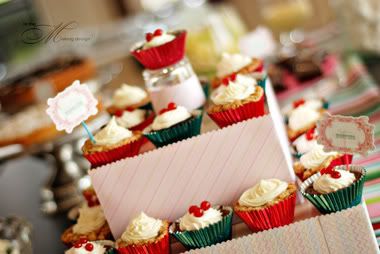 the cupcakes were carrot ginger walnut and chocolate
I also had glass jars with some sweets (marshmallows, M&Ms, and Toblerone chocolate).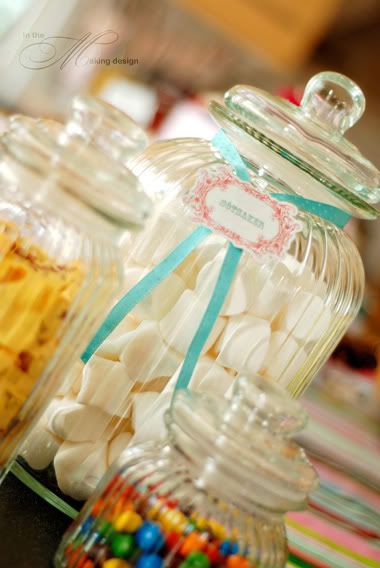 For drinks I served espresso, freshly brewed coffee, blackcurrant juice, pineapple juice, and soda.
Later in the evening we had hot dogs and beer outside. It started to rain so everyone was huddling under the awning. But everyone seemed happy enough anyway.
It was a lot of hard work but all worth it I think. The place looked awesome and the food was delicious. Now I have a few months to rest up until my husband turns 35 too, lol.