One lovely tradition that my husband and I have with his brother and family is to have breakfast together on Christmas Eve. We started doing it a few years back when we couldn't find another way to see eachother during the holiday and now it's one of the things I wouldn't miss for the world.
This year we met up at our place and despite being very busy the days leading up to Christmas I tried to make it the place nice and inviting.
I went for a traditional look for the breakfast with a sand coloured linen cloth and a hugh mutha of a wreath that I tied with red satin ribbons and finished off with matte red balls.
I used glass candle holders from IKEA, that are quickly becoming my favourite, with white candles. To keep it simple I used tea light candles in glass holders also from IKEA.
I put a few matte red balls in clusters at the base of each candle trio to add colour.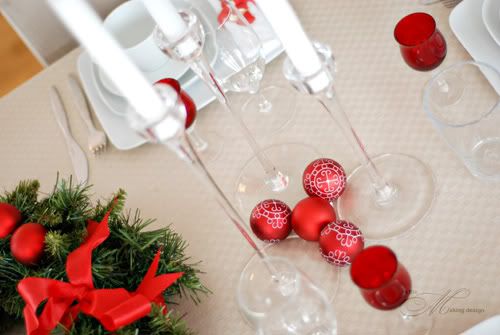 The white china (of course) was complemented by the napkin holders that I recieved as gift several years ago. The little girls dressed up in Christmas gear are perfect for a traditional Christmas setting.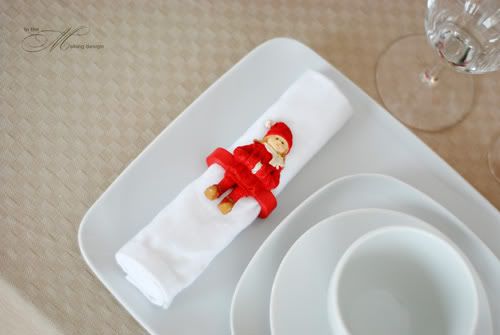 These last two photos were taken on the morning of, right before we sat down to eat. It was still dark out and with the candles, and the snow glistening outside, it was a perfect Christmas morning.