So this is the 48th installment of Project 52. There are only four more photos to take this year. Wow. It feels like the year has gone by so fast, but when I look in my project folder I realize so much has happened this year. This is, in my mind, the best thing about photography; so many memories that are preserved.
#48, 2009
It's the first Sunday in Advent today and we had the first candle lit while we had breakfast this morning.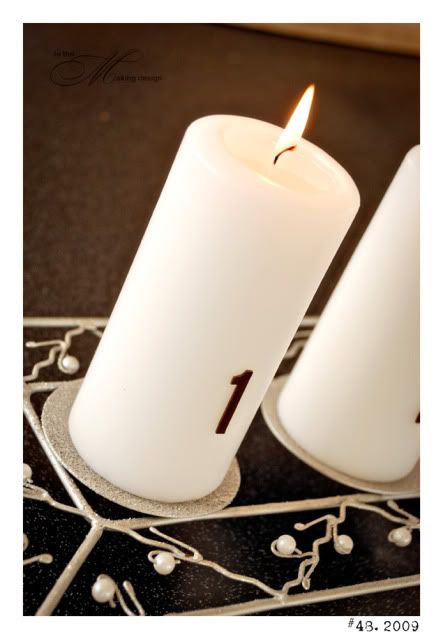 And here's the whole thing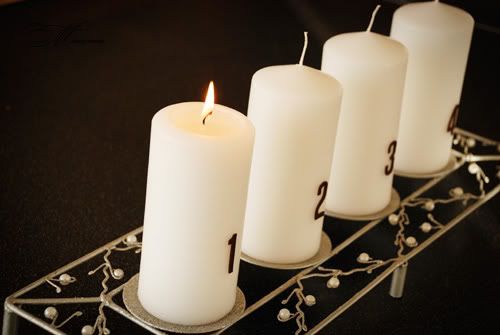 This week I have been working hard on a really fun project. I came out lovely and as soon as it is possible I will share it here with you. It is top secret right now but I am so excited about sharing!
And then today I started working on my Christmas cards. I know, in the nick of time, right? Well, I got six of them under my belt today and I think I will be able to finish in a couple of days. I usually do different designs for each card but this year I decided to be kind on myself and do the same design on all of them. Such a good decision too. I just had to let go of that Type A personality need to always do too much and too perfect. :p Anyway, I got a stack of Christmas papers from My Minds Eye designed by Jen Wilson and they are gorgeous. So that makes everything much easier and pleasant. As soon as they are finished and sent off I will post them here.
Other than that, I have enjoyed the weekend thoroughly with my husband, shopping for our first Christmas present this year, decorating the house, eating good food and drinking good wine, watching mob films on the DVD, and cheering on our teams in the Italian and Spanish football leagues. I hope everyone has had an equally good weekend. Much love.