A little while ago I decided to spruce up one of the office walls a little with some home made art. The colours in that room are grey, silver, and red and I have somewhat of a theme going with circles (and dots) and letters (with an emphazis on R). So I made two pieces in red and framed them in silver frames. I haven't gotten round to hanging them yet - seriously need to get the drill out this week - but today I propped them up on a picture shelf to at least take some photos of them.
The first one I made all by my self by putting together red dots in different sizes into the letter R. I am so in love with how this came out. The funny thing is that the other day I saw a snippet of a rerun of an Oprah episode and there was a logo of her O that consisted of dots in different colours. I swear I made mine before I saw that though! ;)
The second piece I made is of the Swedish alphabet in different fonts, with a few numbers and a snowflake at the end, just for good measure. I am thinking about redoing this. I am not 100% in love with it. But yeah, it will do for now.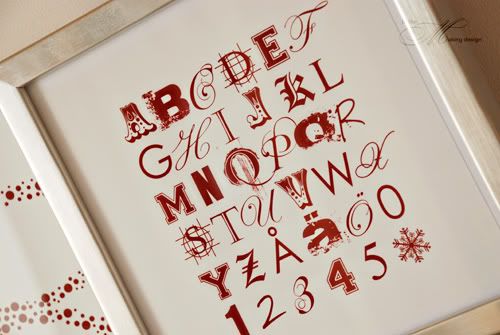 I have a bunch of things to catch up on; I know I promised the wordart last week, two P52 photos, and also some ideas for Valentine's that I wanted to share with you, as well as a mini tutorial for my way of doing a photo wall, but I am putting in a lot of overtime at work at the moment, so please have some patience with me. :D