Sometimes even I have a stroke of genius. Like when I decide to look through my IKEA catalogues and be inspired. I did that four or five years ago and was really inspired to start a photo wall. We lived at a different place back then but we decided to bring the idea with us to this house when we moved just little over three years ago.
Being the lover of "simple" that I am, and let's face, plain anal about order and "clean", used 19 identical frames, all B/W photos, and arranged them in a grouping that I personally thought was appealing. But, that was three+ years ago, and to be honest both my photography and my editing skills have improved vastly since then. It was time for an update.
We discussed me doing something artsy and creative but in the end we (or I rather) came back to the simple, clean style that I want to define our house. So I simply printed some new photos and changed out the old ones.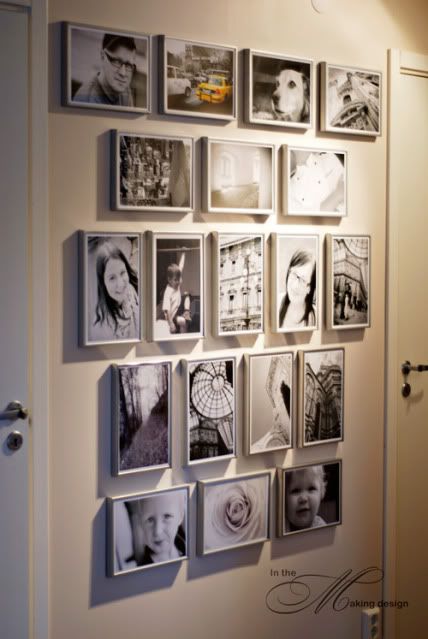 What I want to convey with this post is that you don't
need
to do elaborate stuff to get a good end result. You don't
need
to do LOs, or books, or hybrid projects with all your photos. You don't
need
a lot of fuss. Sometimes just printing the photos and putting them in frames can be more than enough and very effective.
I love walking past this wall - it's on the way from the living room to our bedroom so I pass it at least twice a day - and see people we love, or a place we've been to, or a detail of something beautiful in our lives. I love to have guests go over and stand there for a while, striking up conversations whether they were there when the photos were taken or not. I love that they are a part of our daily lives and not stuck in in a box or in a book case.
Now you might not like the straight rows that I have. You might not like the uniform frames. You might not want all of your photos in B/W. Well that is the beauty of it, you can do it any which way you like! If you want inspiration, you can check out
Decor8 Flickr group
. There are plenty of photo wall pictures. Through this group I found
Chez Larsson
and fell in love instantly. Wow, what a beautiful home. What beautiful ideas.
Oh, and if you need tips on how to get perfectly straight rows like mine for a photo wall just give me a shout. I thought and thought about this for the longest time and came up with a way that works really well if you have enough photos to finish up the photo wall all at once.