Here I am, coming to you live and direct from a brand new computer! I only unpacked it yesterday so I am far away from ready with migrating everything from the old one to the new, but so far I am totally loving the experience. Superfast and super pretty. What else could a girl want? LOL!
So, with Christmas just over and done with, I want to hold on to it just a little longer by showing you some crafts I did, but never had the time to post about, before Christmas.
These balls were done with papers from the
Frostbite Paper Pack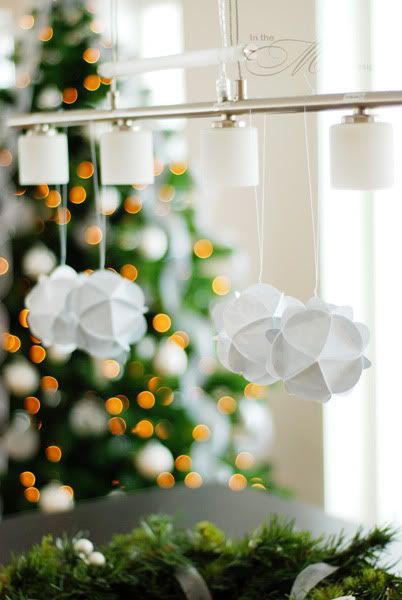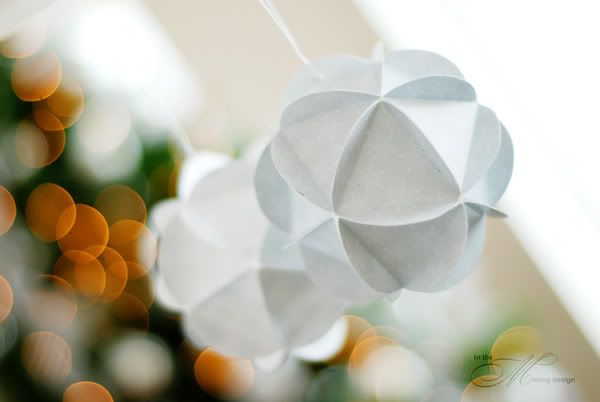 They were surprisingly easy to make with directions from Kaiserkraft (link will come once I have it on this computer) but if you ever decide to make them at one point or another
do
get a circle punch! I didn't have one in the right size so I hand cut all circles for six balls. That's 120 circles. It took me four hours and gave me a nice little aching hand. Ouch!
I strung some of mine from the light over the kitchen island and it was just the right amount of decoration for me. Not overwhelming and not too ostentatcious. Simple but pretty.
You can also see a small peak of the wreath I made at the bottom of the first photo. All I did was wrap some white organza ribbon and attach some tiny white balls and that was it. It matched the tree perfectly.
Now, I am so not a flower person. I kill flowers and plants with lightning speed. I swear, plants have died within hours of being in my house. But in spite of this I bought some hyacinths and tried to do something crafty and pretty with them. Here's one: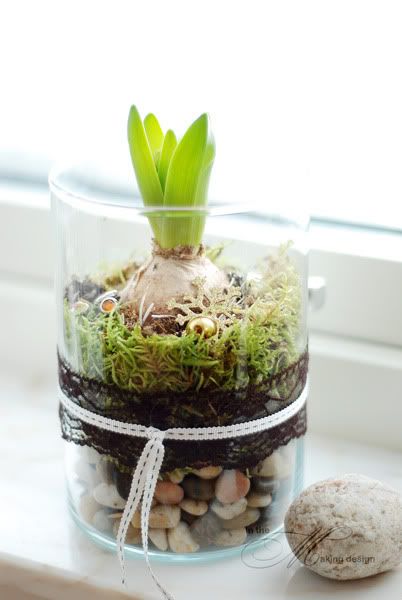 I put a few pebbles at the bottom of a vase from IKEA, wrapped the bulb with fresh moss (apparently from France as per the florist's info) and placed it on top of the stones. I rummaged through my scrap stash and found a sparkly snowflake, a bell, and some gem brads. Those, together with some ribbon finished off the creation. I cannot tell you how accomplished I felt once I put it in the window, lol. Now, it still hasn't bloomed, but at least it's not dead.
Apart from the tree and door wreath, the wrapped gifts, and white pillar candles everywhere, this is pretty much all of my Christmas decor. I guess one can safely say you won't find any santa figurines in my house, lol. At least it will be easy to take down!
I hope Christmas has been good to you all!