It's a strange thing. Like I have talked about before, in my first New52 post, I'm not much good in the kitchen when it comes to cooking. But for some reason I can rock it pretty well with desserts and baking. I think it's the exactness and need for step by step execution of baking that makes it possible for me to get through it without panic. With cooking you always need to have a million things going at once which totally stresses me out.
So with not being too shabby with the baked goods comes an interest in finding really good recipes to try out. That, and I like to look at the mouthwatering pictures of dessert/baking cookbooks. I've got quite the substantial collection going. I haven't even begun to try most of it - mostly because if I did we would be rolling in thish house.
This week, while doing our weekly grocery shopping, I stumbled across a recipe book completely devoted to cupcakes on sale and it just happened to slip into the grocery bags. How could I resist? It was on sale after all. And it seems to have been worth it because the one I tried today turned out pretty terrific.
I give you chocolate and cheesecake cupcakes. I opted to not have any frosting because I liked the crackled top. I thought it was pretty in all its imperfection.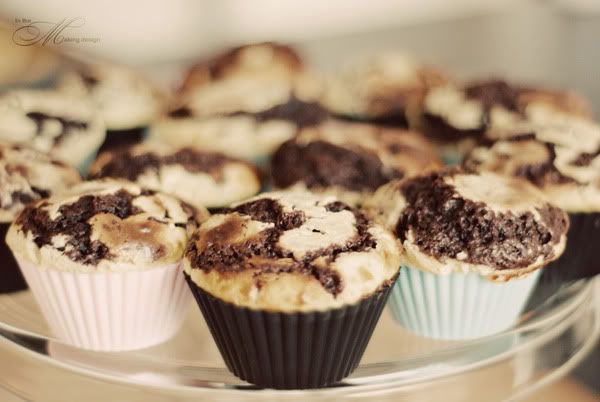 I can attest to them being very soft and tasty.