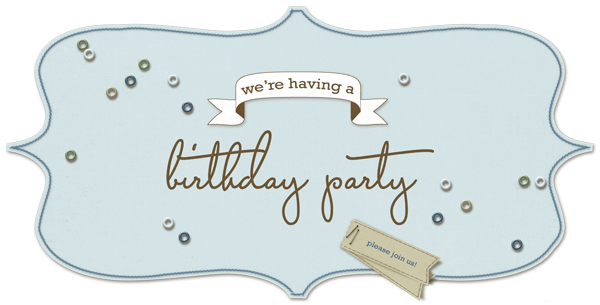 That's right! It's been a year since that completely nerve wracking and life changing day when I officially joined the ranks of designers at
JessicaSprague.com
! One year! Can you believe it? I hardly can. It's been a whirlwind of a year with so many amazing experiences. I have learned so many things about the design biz, people around me, and most of all myself that I am sure would have never known otherwiese.
It's been demanding and humbling to learn how much work it takes, and about the never ending things to learn about graphic design, colour, and digital scrapbooking. I have been amazed, awed, and deeply touched by the beautiful creations of all the lovely people who have used my designs.
So what better way to say thank you, and to pat myself on the back for daring to take a leap of faith, than to party? Heck yeah!
I've got several goodies lined up for you today! Let's start off with new products in the shop!
I have not one, not two, but three new products available in
my shop
today
. Heck yeah!
This series of packs is all about me going back to my roots. I think I have shared a few snippets about being in a creative slump for a while? I needed to go back to the stuff that I really love to find a glimpse of it again. First, the colours! Blues, browns, tans; they are all my favourites. They make me feel calm and serene, refreshed and warmed at the same time. Also, I think they are just plain pretty. Then, greeting cards, invitations, card making; that's what started me on this whole journey to begin with all those years ago. So this whole series is devoted to my first loves.
There is one more part of the series coming next week
(a card templates pack, but ssssccchhh don't tell anyone). I hope you will love them all as much as I do. Meet & Greet is available, surprise surprise, today!
And what would a birthday party be without a giveaway? Why nothing I tell you.
So guess what, we're having a giveaway! Heck yeah!
One lucky dog will win all of the above packs. Heck yeah! All you have to do is reply to this post and tell me what you would like to use them for. Please post on Wednesday at the latest for a chance to win. The winner will be announced on Thursday.
But what about everyone else, you ask? Don't worry loves. I've got your backs too! Heck yeah!
Head over to my facebook page, click the like button (if you haven't already), and
check out the action on the wall.
I don't think you will be disappointed! But don't wait, you've only got three days to get in on the action.
Alright my loves, time for some cake! Go ahead and have one you too on my behalf!
Also, there's more good stuff coming next week so don't be a stranger, alright?! ;)