The house is an open plan house which I really love. I love the large kitchen/dining/living area. Not only does it mean that the house is very light and airy, but it is also perfect for communicating. Even when it's just the two of us we can still talk to eachother when the husband is cooking and I'm watching telly in the sofa. Of course, the large open area is perfect for entertaining.
The dining area
1. Our large table that folds out to seat twelve is a complete life saver when we have many guests. The padded chairs are super comfy which means that long meals are no problem at all.
2. The big windows facing both west and south ensure that the house is flooded with light. The floor to ceiling windows ar,e granted, a pain to clean but I can live with them being dirty. It's not going to kill me.
3. The vicinity to the kitchen is optimal when having sit down dinners. Serving is a breeze and the island can be used as a buffé.
Living area
1. The wallpaper on that one wall is very clever. The swirly pattern is a golden/bronze metallic that changes depending on the light. From some angles and in some lights it isn't even visible and then during other parts of the day and from other angles it stands out in a 3D like effect.
2. The photo wall is perfect for displaying my photography. We change the photos out every now and then. Mostly then actually. We've changed them out twice since we moved in. I still stop and look a the photos sometimes when I walk past.
3. The oak parquet flooring is a beautiful warm honey colour that seems to get only more beautiful with time. It kind of sucks that it's so soft because there are already knicks and marks in it but I guess I just have to suck it up and accept that it's part of every day life.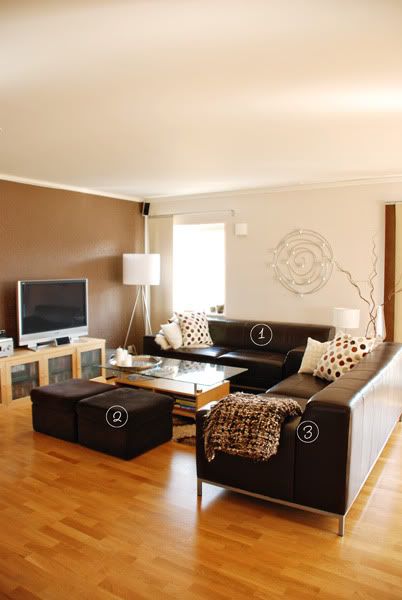 1. Our large brown leather sofas are perfect for watching films and falling asleep. We chose them not only for their sharp look but also because they are so comfy lying in. They are also wide enough that we can lie together in one.
2. The stools offer valuable storage as well as extra seating. They hold toys for our younger guests and cooking magazines.
3. The thick blanket is perfect for chilly winter nights. My sister in law gave it to me for Christmas a few years ago and the only chance for someone else to use it is to claim it when I'm not at home.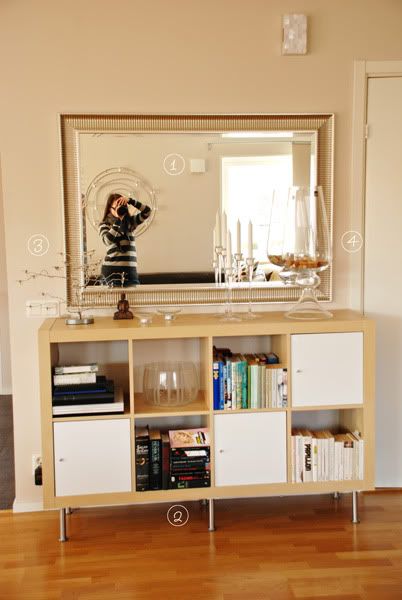 1. The big mirror reflects the whole living area and makes the room look much bigger than it is (as if that is needed). I also love the rough edge of the frame.
2. The books are placed colourized rather than alphabetized because I can't stand the cluttered look of books in different colours next to eachother. The look is also broken up and lightened by the white doors and the glass bowl. I had to put away 75% of my books (which was already halved by a previous weeding) when we bought this shelf. It hurt but surface proved more important than being intellectual. How shallow of me, lol!
3. The lamp shaped like a bonsai tree is a favourite of mine. It has a bunch of tiny lights that makes the lamp look like a floating tree at night. It's difficult to explain but it's just gorgeous.
4. The big vase holds wine corks. Our plan is to fill that bugger. I'm realizing it will take a while since the little sliver of a layer is the product of about eight months worth of drinking. But it looks cool I think.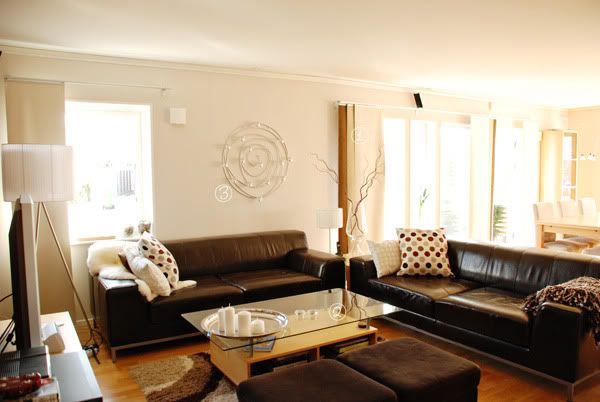 1. The suede panel curtains are sleek and luxurious at the same time. I am so not a frilly person (which might not come as a surprise to you at all, lol) and these are the perfect match for me.
2. The large glass table with storage underneath holds a lot of books and all our techie gadgets but still manages to look clean and tidy. The glass gets dusty quickly but is super easy to clean with some glass polish and a paper towel. I will cry when the glass gets so scratched that we have to replace the table.
3. The candle holder on the wall was purchased at an outlet and looked like crap. It was black and the glass cups to hold the tea lights were so tacky. But I spray painted it silver and changed the cups out and all of a sudden it was elegant and pretty. I love the look of the candles glowing on the wall when we light them.
Alright that's about 50% of the house covered. Next house post will cover the bedrooms.
Oh, and I also created a layout!
- - - - - - - - - - - - - - - - - - - - - - - - - - - - - - - - - - - - - - - - - - - - - - - - - - - - - - - - - - - -
Supplies: Meet & Greet Paper Pack and Elements Pack, Moments Elements Pack, It's a Start Templates 5 (coming soon) all by In the Making Design.
Staples by Vinnie Pierce.
Fonts are Century Gothic and Another Typewriter.
- - - - - - - - - - - - - - - - - - - - - - - - - - - - - - - - - - - - - - - - - - - - - - - - - - - - - - - - - - - -