I had some comments on the husband's painting which made me happy. I am really so proud of his talent. So much that all of our art in the house, apart from my photography and a few framed scrapbook papers (you'll see them soon), is his original art. I really like the idea of putting nothing but our own creations on our walls. So if you see a painting in any of the pics, it's his. :) There was one in the dining area pic and a few coming in this post as well.
Guest lounge whisky room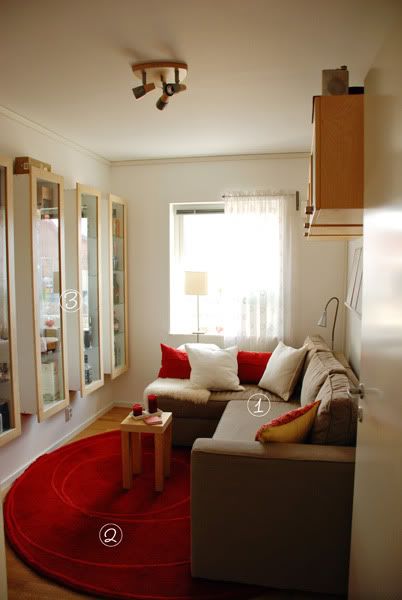 1. The sofa bed folds out to sleep two. It's the perfect solution in a tiny room. We don't have guests stay over every week exactly which means that it would be a total waste to have this room decked out as a proper bedroom. This way we can lounge in here, listen to music and read, and be able to use the room ourselves.
2. The round, red, soft rug was bought when we bought our last home many (seven) years ago. It still looks brand new, it is still a pain to hoover, and I still love it as much as when I saw it the first time. Red usually isn't a huge favourite for me but because of this rug red is the only colour in our house that isn't a neutral. Go figure.
3. The wall hung cabinets hold the husband's whisky collection and various other spirits. They are narrow which is perfect in this space and they look sleek and clean. It's also much easier to clean the room with them being off the floor.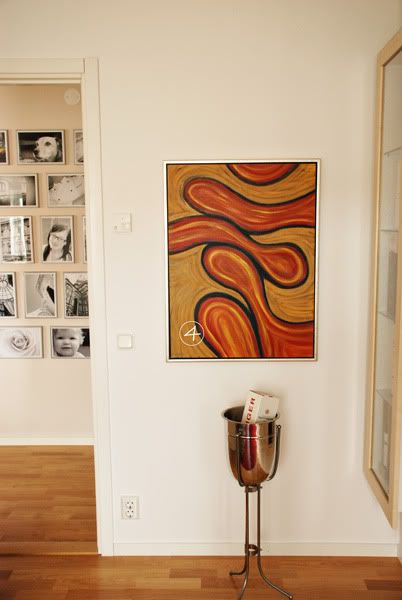 4. The "Inferno" painting. The red is much stronger in real life than in this picture. I love lying in the sofa bed staring at it. I think it looks like flowing lava. I also like that you can see the photo wall in the hallway outside of the room from that same position.
Bedroom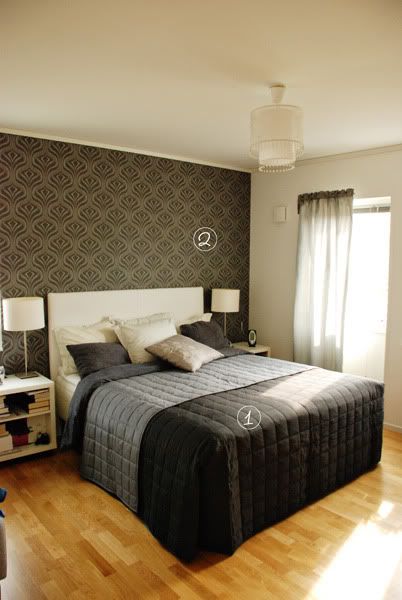 1. General design and colour scheme in this room is my absolute fave. This is actually my favourite room in the house. We wanted to create a luxurious, boutique hotel style look for the bedroom and we also wanted to bring with us the colour scheme from our last place. I am very pleased with the look. Everything in here is white, a shade of grey, or silver. It means it's very calm and serene and also very sophisticated and classy. The one thing that bugs the heck out of me is that the super cool silver ceiling (that was a total pain to paint) had to be painted over after the second year inspection (all new houses have to be inspected after two years and the builder has to fix whatever problems are found) stated that there were too many surface cracks in the ceilings. Of course they restored the ceiling to its original state which was white. Two years later I still haven't gotten round to getting the silver back up there. But you can see what it looked like
here
.
2. The wallpaper. I just love love love this design. We spent weeks looking for the right one and had a few quite heated discussions in the shop but it was so worth it. I don't think we could have found a better match.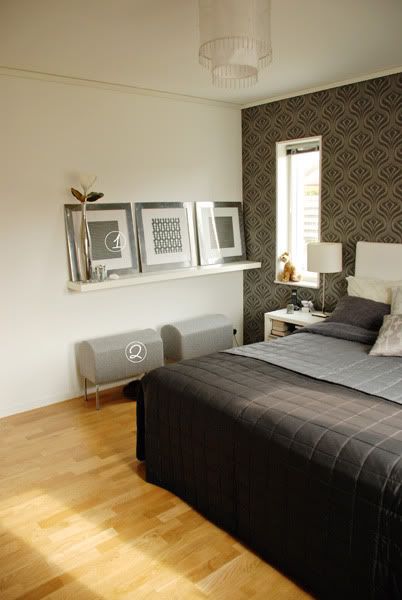 1. We found the frames on sale at IKEA and put scrapbook papers in them and had super nice art for almost no money at all. I really like the fact that they aren't hung but rather just leaned against the wall. It's a huge pain to dust but I'll take it. Now, I have tried very hard to find as practical solutions as possible throughout the house, and I think the fact that we like modern and no fuss design helps that, but sometimes surface needs to go before practicality.
2. The stools are perfect for putting clothes on at the end of the day if we feel we're going to use them again the next day. They can also be used as emergency seating should we have too many guests over at the same time, lol. I also really like the rough wool with the ultra modern design. I think it's a great combination.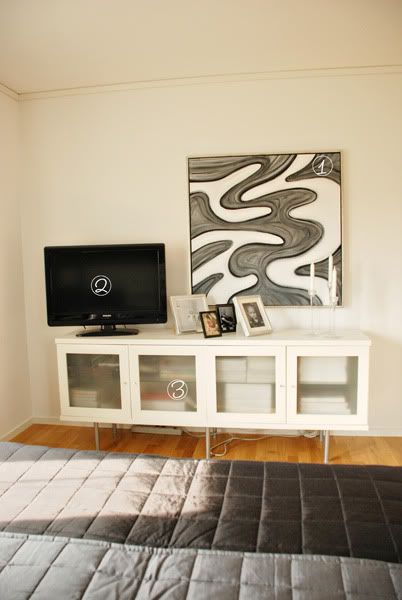 1, Painting! The organic shapes and the soft variations of whites and greys is what gets me every time. Waking up to see this painting makes me feel happy. I think it's the energy and movement.
2. Telly. I have to say that I strongly disagree with people who say that you shouldn't have a TV in the bedroom.
3. Granted white furniture in a bedroom means you're setting yourself up for a lot of dusting, but I love this cabinet. I think it is super pretty and I love the storage it offers. I keep my wedding and decorating magazines here.
I'm not going to share the office/dressing room combo again. If you want to see what it looks like you can read
this post
. It still looks the same and I still love the same things.
The laundry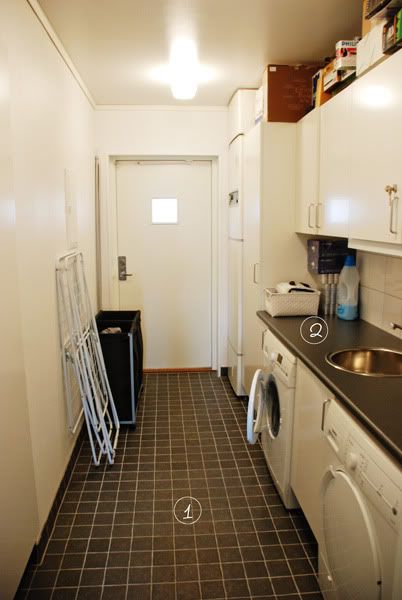 1. Ok, first off, are there things to love in a laundry room? It's just a work room after all. But yes. There are indeed things to love about a laundry room. I love the tiled floor. It means we can hang really wet stuff up to dry without worrying about the floor being ruined. It also means it's easy to clean. And I like the tiles. I think the rough look is really nice combined with stark white (I like it so much that I have the same in my bathroom).
2. The sheer size of the room (which I also love as it means it's actually possible to be in there and do stuff) means there is ample room for many cabinets and counter space. I love that I can use all that counter space for folding laundry. It's also used as a changing table when "our" babies come over for visits.
We had plans to paint that left wall with some cool design. After four years we still haven't been able to decide what we want so it's still white. It doesn't bother me because as I said I like the contrast of the grafite grey and the white. But one day we might come up with something and actually do it.
Alright. So that's it. Our home and what I love about it. It isn't spectacular with lots of expensive design stuff. That's kind of typical of us. We get regular cheap stuff from IKEA and we make it work by putting it together in a personal style. I was once told that my style is post mod Euro trash IKEA style by someone on a wedding forum online. It had me laughing because even though she said it in a derogatory way it really isn't a problem at all for me. We don't own one single thing that is worth much but it all means the world to us. I think that is what I love the most about our home in the end.
We do have two bathrooms that I won't share even though there are plenty of things to love in there (like a shower curtain with ruffles) because I'm feeling iffy about sharing bathrooms on the internets. We also have two closets but those won't be shared either. If you ever saw Monica's closet of crazy in Friends you will understand why! LOL!
Now, do you have things you love in your house? I would love to see if you want to share!