One of the things I had on my list of things to do this year when I first started the project was to celebrate our 10th wedding anniversary with a really good champagne on a trip outside of the country. On our honeymoon in Thailand we said we'd go back for our 10th, then that destination changed over the years to NYC. This year we finally decided to go to Italy and Milano. So we have spent the past week eating a lot of fantastic food, drinking really great champagne and wine, seeing some excellent sights, and doing some pretty decent shopping.
I've been to Milano twice before, to visit my sister who lives there, so that wasn't the new thing but I did get a couple of new things in anyway. Well, celebrating ten years of marriage for one. Haven't done that before, LOL.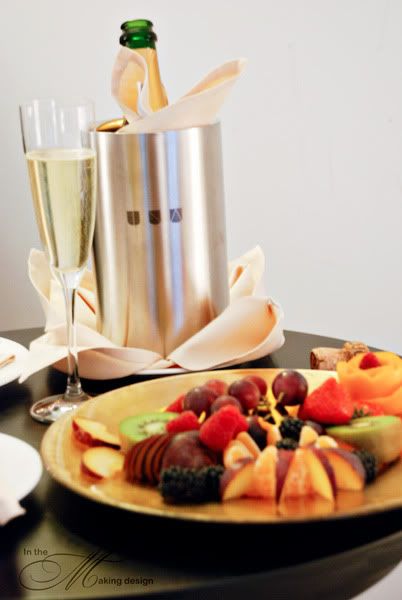 Other new things:
We visited the La Scala museum and were fortunate enough to get to see the rehersals for
Don Giovanni
. Seriously, that place is truly stunning. My only regret for this trip was that we didn't get tickets for a concert or an opera. That will have to come next time for sure.
We visted the Pinacoteca di Brera and saw paintings by my favourite artist
Monet
, among many others (including Picasso and Van Gogh). I am in complete awe of Monet's technique.
We saw Leonardo da Vinci's masterpiece
The Last Supper
and I was floored. Now, this piece of art is severely damaged and is in a completely bare room. But the history of it, and the fact that it is still competely amazing makes it truly one of a kind. We were only allowed to stay for ten minutes, but during that time I couldn't take my eyes off it.
I had pizza fresca, which has neither tomato sauce nor melted cheese. It had a chili oil on the crust, small balls of mozzarella, shrimp, fresh tomatoes and arugula. It was totally not what I expected to get, but it was good none the less.
I bought a couple new things as well, including a pair of shoes, a sequined tank top, and a small purse with a leather rose on it.
Other than that we did a bunch of fun things like watch football, eat at fabulous restaurants, visit an outlet shopping center, and spend lots of time with my sister and her boyfriend. All in all it was a fantastic trip and anniversary.