So this post is long overdue. Or rather, the project that the post is about is long overdue. Way back when I got that
quote wall decal
in our entry, the husband started a project as well; painting a wall with chalk paint. Well, as it turns out following instructions isn't really his strong suit so it all ended up a disaster with big chalk lumps all over the wall. Fast forward about a month and a half, and I finally lost patience in waiting for him to fix it, so I made him get a board the size of the wall for me to paint.
The board was put up about a week and a half ago, and I am loving it. I have wanted a chalk wall for ages because I hate having little notes and stuff all over the place. I hate forgetting things equally much. So now I am a happy camper, and I think the narrow wall between the entry and the kitchen (actually, it's the side of a kitchen cabinet) looks super smart.
From the entry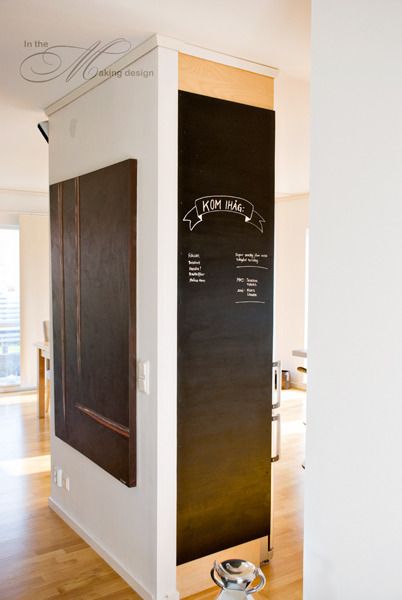 From the kitchen
Up close
So far we haven't filled it with stuff. I kind of like the white space (or should I say black).