I know it's been really quiet around these parts for a while. I have been working really hard to finish all the stuff for the wedding this weekend. It's over (took place yesterday) and it went really well, but I am wiped and need rest. But in the meantime I thought I could share the card and gift that we gave the beautiful couple.
I made a large card with a bit of a retro design based on an ad I saw on Pinterest a while ago. It's actually one full 12x12 paper folded in half. Pretty cool with big cards, I think.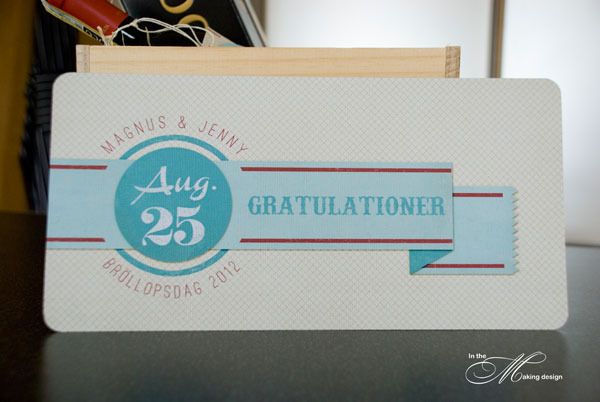 I used digi papers from Hometown Proud by Design by Dani and Country Lane by Pink Paislee for this card.
We decided to give the couple some good wine to enjoy at specific dates; a Brunello for the one monthiversary, a Portuguese wine for the six monthiversary and a champagne for the first anniversary. I arranged the bottles in a wooden box that the husband was able to charm his way into at the wine shop with two red wine glasses (they will have to use their own champagne glasses in a year). The box originally contained wine from the Priorat district in Spain, but I don't think that really matters as it is pretty.
I also created tags that matched the card for each bottle that stated the date when the wine is to be enjoyed.
The husband and I both commented that we were jealous of the gift, LOL. And I can't even drink red wine!
Hopefully I will be able to share some pictures from the wedding in the coming week.